Swivs Travels: Uganda 2003 - Part Eight
Created | Updated Nov 24, 2003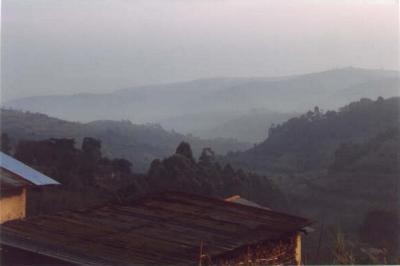 Those of you who have been around and reading the Post for the last three years may remember that in 2000 I took myself off to Africa for the second half of my Gap year. This year I returned.
The friendly taxi driver's name was Jackson, and he remembered Fiona from her Gap year. Actually he remembered Susannah, Fiona's Gap year partner, who had returned to Kabale briefly in summer 2002. Quite often over our few days in the area we were accosted with greetings of 'Susan! Susan!' We then, of course, had to explain that we were Fiona and Hannah (they knew we weren't Susannah, but that was the name they knew!) and Susannah was quite well and sent greetings.
Having assured Jackson that we would be wanting a taxi to get us out to the village - getting another matatu and then boda-bodas out into the surrounding hills was just not appealing given our rucksacks and long day's travel - we trotted off to ditch our bags and grab some things. We wanted some lunch for a start (this was at about three in the afternoon), and to get some things to take out to Kamuronko for the Chaplain, Benon, and his family.
Our arrival in Kabale made us feel oddly hyperactive so, after dropping our bags in Visitours - the cheapie guesthouse which was Fi's Gap year group's home when in Kabale - we shot up and down the town on boda-bodas, collecting bread, samosas and a range of things from the market: peanuts, popcorn and other little treats. We then headed back to Visitours to find a soda, and we did intend to find Jackson too...
However, when we got there we were given a note from Benon, saying that he was in Kabale with the headmaster of Kamuronko school (where he is Chaplain, and where Fi taught) and we must wait for him. So we did that. It's not like we weren't used to waiting, it's something you do in Africa. We prolonged the soda, apologised profusely to Jackson, but assured him that we would be wanting to go out to Lake Bunyoni for a day when we came back from Rwanda, caught up our diaries, and played cards (this last was set to become a major feature of our travelling - after 6 weeks, we'd pretty much run out of conversation).
We actually didn't have to wait too long, as Benon arrived beaming, and we piled into the back of the school pick-up with our bags and plenty of other people, sitting on as much of our stuff as possible, and hiding our cameras under our skirts to keep off the dust. After picking up the Chaplain's two eldest children - Trust and Brave - who are at boarding school in Kabale, we headed off.
It was a lovely, bumpy, dusty road and we turned a gorgeous shade of red-brown before we'd gone very far. At the same time, it really was a lovely road. I began to understand, somewhat, Fi's passion for the place. The whole Kabale area is full of high, rolling hills (the town itself is at about 6000 feet) dotted with tiny villages. Indeed, according to the guidebook, the area is referred to as the 'Switzerland of Africa'. Hmmmm. It is beautiful though.
We were staying with the Rev Benon and his family: his wife Judith, and their children, Trust, Brave and Pearl, and Benon's niece, Ruth, whose parents had died of AIDS. She has been living with the family for a year, and Benon has been supporting her, and her elder siblings at school, although he is unsure of how much longer he can continue to do so, especially now that he has a fourth of his own on the way. Benon is the chaplain and a teacher at the secondary school in Kamuronko and Judith is a primary school teacher. They live in the house that Fiona and Susannah lived in on their Gap year - one of the school's houses - which had been done up for their Gap year and so has concrete walls and floors, electricity and a nice long-drop. It also still features all Fi and Zannah's decorations - including a large whale and lots of hand prints!
Our visit was Fi's first chance to meet Pearl - who had been born a few months after she returned to England. She was slightly scared of us when we arrived - I don't think she remembers the last Gap year students who were in Kamuronko in 2002 - and is very like her older brother Brave, who she adores. She and Ruth were both delighted to have Trust and Brave at home for the weekend - Ruth goes to the village primary school, while Trust and Brave are at boarding school in Kabale - and the Chaplain's two eldest were delighted to be fed food that wasn't posho and beans at every meal!
We spent a lot of time with the children - Trust and Brave soon got used to Fiona again, and I was made to feel one of the family. Unfortunately, though, Judith wasn't very well when we were there, and went into a clinic in Kabale on the Saturday night, so we didn't see very much of her. We visited her in Kabale before we left for Rwanda: she was looking much better and Benon was hoping to be able to take her home.
We had a wonderful weekend - although having to be sociable every waking hour of the day was quite tiring. On one day we went out to Rwesasi, which is the Chaplain's home village to see the house he has built there - a gorgeous home. We spent the day sitting on the front steps taking out Fiona's braids, as she had decided they were too messy and this was her last chance for them to come out before we went to Rwanda for the week. Trust, Pearl and even Brave helped us out - with lots of tugging. By the time we went back to Kamuronko we had about half of the braids out. Most of the rest were out by Sunday evening - taken out before Church, after church and before we went to visit one of the school teachers at his home (that sociability again). However, they were all out before we went back to Kabale!