The h2g2 Poem
Created | Updated Feb 10, 2007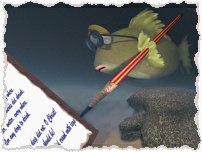 How the Aliens Saved Mankind

Those who'd not been chosen

Had gathered at the site,

To watch the awesome alien fleet

Take off into the night.

'Your planet's doomed,' the alien said

'But we shall save mankind

By choosing those who'll board our ships

And those we'll leave behind.

'So bring to us now your statesmen,

Your brightest shining lights,

Your captains of great industries,

Make them ready for their flights.'

And those who'd not been chosen

Watched them soar into the sky

And watched their ships' explosions

And they watched the buggers die.

Then at last the alien spoke:

'To those who now remain,

Rebuild your world and please

Don't make the same mistake again!



Poetry by Various Contributors