The h2g2 Poem
Created | Updated Oct 29, 2003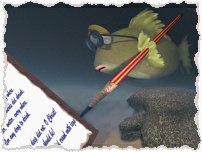 Written on the Back of a Take-out Menu
5:30 AM, October Twenty-sixth

I was woken up early on the day of the Sun,

But the sun was still sleeping and the temperature had run

Down to zero so I, dressed in t-shirt and slacks,

Would wait out the night at the security desk.

I sit on a stool reading Jack Kerouac,

As the sky turns to blue from its black black black black,

A man in a coat walks his girl down the hallways

She carries a rose that she'll bear for him always.

Some early-birds pass between Wings A and B

Off to the bathroom or to do laundry.

When we set the time back, we all act a bit gone

And a little bit further from the dawn dawn dawn dawn.