Absolutely Plumb
Created | Updated Nov 16, 2006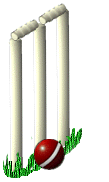 The Ashes
The Ashes starts in Brisbane next week, so Skankyrich hopped on a flight to Australia to meet up with Linus. Over a couple of VBs, we had a good old chinwag about the series to come.
Skankyrich: I just wanted to turn back the clock a bit and ask you what the reaction to the last series was down there? Apart from shock, obviously. I'd love to think the Aussies recognised that the marginally better team just shaded it in a wonderfully compelling series, in which the defining image was that of Flintoff commiserating with Lee at the end of the Edgbaston Test, but I suspect the reality may have been rather different.
Linus: I think most people were prepared to concede that England played well and probably deserved to win and even a bit of the characteristic Aussie support for the underdog that may have even wanted you to win, but I think in the back of our minds there will always be the thinking that we played (bowled especially!) badly and still only just lost. Your form since you got here only seems to reinforce the idea that the first Test was the natural scheme of things and everything else was an aberration. The defining moment for me was Glenn McGrath doing his ankle.
Skankyrich: Yes, it was certainly an important moment, but Australia are the best in the world partly because they have more than one world class bowler! The image of Fred and Brett summed up the sportsmanship and respect both teams carried through the whole series.
Linus: Let me turn that last question around slightly, what was your perception of how we reacted to the loss? I know there was much surprised comment about how well we reacted when you beat us in the Rugby World Cup.
Skankyrich: To be honest, I think most Brits think of Aussies as playing hard but fair; you'd prefer a close match than a walkover. This appeals more to cricket fans than followers of other sports, as it does tend to be less partisan. Whether our perception is true or not perhaps only you can answer, but the online reports I read from the Australian press were very noble and congratulatory.
Linus: I can imagine the more jingoistic of your press have been trying to whip up a supporter frenzy.
Skankyrich: Maybe you misjudge our press! Often you feel they would rather see England lose; most of our populist newspapers love little more than a batting collapse. The exception was the last Ashes series, during which they couldn't really knock the team. I often think we might as well let Glenn McGrath write our Ashes previews; he'd probably portray the team in a more positive light than most of our hacks.
Linus: The big question is why have you struggled so much since winning the Ashes? Surely the expectation would have been for you to sweep everyone before you like Australia or the West Indies before them, and this clearly hasn't happened.
Skankyrich: I think it's important to get some perspective. Winning the Ashes didn't make England the best team in the world; that series was a one-off moment in time that will stay in our memories for a long, long time. If you take that euphoria out, we haven't really gone downhill; we're still a very good team capable of beating anyone in the world, but not the best team around. We also don't have a great queue of people waiting to jump into the Test side, either, so the injuries to Vaughan, Simon Jones and Flintoff hit us hard. Who wouldn't miss Flintoff? The great bonus has been the emergence of Alistair Cook, who could well complete his emergence as a genuine world class batsman in the coming weeks.
Much has been made of the age of your Test team; the likes of McGrath, Warne, Gilchrist and Langer can't keep going forever. We saw the effect of age on Gillespie in the last Ashes series; are there any signs of creaking that might give English fans optimism?
Linus: Not much talk here about the age of the team, not in respect to this series anyway. Yes it is an issue in the years to come. You can't just replace a Warne or McGrath overnight, if at all in the case of Warnie. Langer is covered and current vintage Gilchrist (as opposed to a few years ago) is also pretty much covered by Haddin. I don't think the age of the team will make any difference for this series.
Skankyrich: We all know McGrath, Lee and Warne will lead the bowling attack, but who are the guys who could fill the fourth bowler role? A suggestion has been made that you guys might even play a fifth; where and why might they consider this?
Linus: There are now any number of players who can be considered for the 4th bowling position, whereas it seemed not that long ago the cupboard looked pretty bare. Mitchell Johnson and Nathan Bracken were both part of the recent ICC Champions trophy winning squad. Stuart Clark who had a great series against South Africa and is a bit of a McGrath clone, the unpredictable Shaun Tait and even Stuart Macgill, who would have to be almost a certainty for Sydney. As for a fifth bowler I'd say that will only happen if Watson, Symonds or even Katich is included as an all rounding batsman. If Gilly isn't batting well they will stick with four bowlers I would have thought.
I personally rate Bracken and believe that if he was on the last Ashes tour the result would have been different. Mind you it would have been different if McGrath hadn't done his ankle just before the start of the Second Test. Let's face it, we only had Warnie and Lee for the rest of the series and you still only just beat us

I'd be interested to know how you feel about your own bowling stocks my friend. Jones is gone, Harmison is under a cloud and Flintoff is just coming back from injury. I hope they give Ashley Giles a go though.
Flintoff will need someone to step up and take a swag of wickets as he won't be able to do it all himself (as much as he tries to). Bowlers can find form so it may happen in the next week or so but it certainly isn't evident at the moment. Due to the ridiculous format, you had your six frontline bowlers playing against NSW and still only managed 5-325 with most of the wickets being caught in the outfield. Why on earth did they ask for these ridiculous 3 day matches with different bowling and batting teams against New South Wales and South Australia instead of proper 4 day matches which would have given them a much better workout?
Skankyrich: I think the idea was to give everyone a go, and to be fair the only bowler that hasn't found rhythm yet is Hoggard. The timing of the Champions Trophy has definitely affected our preparation, another week or ten days in Australia would have given them more time to play an extra game and give everyone a go that way. What is missing in these daft three-day games is intensity; far better to face a side who really want to embarrass your first eleven over four days. You can read too much into these warm-up games, anyway; I'm wearing a T-shirt right now that records (without any triumphalism or glee, I must add) Somerset's mauling of your lads last summer, but they still went on and hammered England in the First Test.
As far as our bowlers go, we're only missing Simon Jones from the last Ashes series. He's proved irreplaceable so far; Anderson still hasn't matured, Mahmood is always capable of winning a match — you're never sure which side for, though — and Plunkett is as yet steady but unthreatening. The real find has been Monty Panesar, the first wicket-taking spinner we've had for years. It's a shame that Giles is apparently preferred for his runs — it's like you not playing McGrath because he can't bat. I wouldn't read too much into their collective one-day form, they've bowled very well in Tests this summer.
What do you think of Graeme Smith's comments this week about Australian crowds, saying 'the racism and some of the crowd behaviour in Australia was very wrong'?
Linus: The crowd comment is interesting. Sure we have our share of drunken imbeciles but we are not alone in that respect. I was lucky enough to be in the members at the SCG for one of the days of the South African Test and ran into an old rugby mate of mine who is now a policeman and was on duty at the time. He told me that the racial abuse the South Africans were complaining about was coming from the members and in Afrikaans rather than from the outer in English.
I saw a comment in the press where someone (possibly Michael Vaughan?) feared for Monty Panesar's life (just about!) if he fielded near the boundary. I just can't see it to be honest. I think the fact he is the worst fielder and batter you have had since Phil Tuffnell will make him a cult figure here just as he is at home. Which is not to say that he won't cop the odd comments about his turban, some funny but some unfortunately totally inappropriate. Mind you, I think the attack was designed more to try and put pressure on the Aussies and deflect attention from how badly you are playing rather than any real fears for Monty's sake.
Are you expecting Flintoff to do everything, bat, bowl, captain? It's a lot of pressure on your star player. Also, how will your South African1 go on the harder pitches and longer boundaries down here. He doesn't look anywhere near as comfortable with the ball whizzing around his ears...
Skankyrich: Of course, we have this ludicrous situation where Vaughan is still the England captain, which is plainly just silly. Personally, I'd have gone for Strauss as captain; I think he has a more intelligent cricketing brain, and as you say, it's a lot for Flintoff to do everything. If there is one man who is capable of it, though, it's Freddie — a superb motivator and an inspiration to the rest of the side. My greatest worry is that a good captain knows when to hold a bowler back to fire him up and get the best out of him, and if the captain is one of those bowlers the temptation is to bowl yourself before that time comes.
The obvious tactic with KP is to bounce the ball in short to him and put nine fielders on the midwicket boundary; then wait. I'm sure that's going to be the plan for him, and I'm sure he'll get out that way. He's had a good knock in Sydney against a good Australian attack, though, and is a world class batsman — he's clearly a big worry for you guys.
If England are to retain the Ashes, who do you think the key men will be?
Linus: Flintoff will need someone to step up and take a swag of wickets as he won't be able to do it all himself (as much as he tries to). Oh, and your wicketkeeper will have to learn how to catch...
Skankyrich: I've mentioned this a couple of times in my column; give the gloves to a wicketkeeper. The jettisoning of Read looks a poor decision, based on Jones' supposedly superior batting — he averages 15, for goodness sake. Wicketkeepers are there to save byes, make stumpings and run outs and take catches. We don't have a Gilchrist, so why pretend?
Linus: I will happily have a pint with you on each Test and I figure you will probably owe me at least four by the end of the series. What are your expectations and have they changed at all in the last few days?
Skankyrich: I'll take you up on that the next time you come over to see your relatives in Earl's Court
but I think we'll be sharing the rounds. I think we'll cope better than expected; our batting line-up is strong, Harmy and Fred will look to exploit the bounce and when it turns, Monty will surprise a few people. England will get stronger as the series goes on, so if we lose the First Test I won't get too despondent. As Australia have consistently proved, form is temporary but class is permanent.
Linus: As much as I would love to see a close hard fought 3-2 victory to us on the last day of the Fifth Test I just can't see you being able to bowl us out twice for a reasonable amount of runs based on the evidence in front of me. Beefy Botham spouting off about Dad's Army isn't really helping your guys too much either. I don't think the Aussies will need any extra motivation mind you. Do you know how determined they are to win back that little urn? If they can make Beefy eat his words at the same time then so much the better.
On the flight home, Skankyrich struck a blow for the English in advance, defeating David Boon's long-standing lager drinking record by four cans.
Skankyrich and
Linus