Sporting With Egon
Created | Updated Sep 24, 2003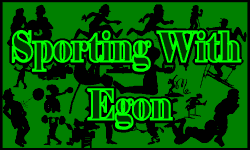 Egon is still away so he has entrusted his column to several a/k/a Random.
My goodness gracious sakes' alive, can it really be October already? I guess so, the baseball pennant races and the college and pro football seasons are dominating sports news, but there's this other niggling little item I see here and there while surfing the 'net for MORE sports news, NOW, that has quite taken my interest. This 'little' matter of the Women's World Cup 2003 in the game Brits call football and Americans call soccer.
The tournament kicked off last weekend with games in six cities from coast-to-coast (right to left on your maps: Boston, Washington DC, Philadelphia, Columbus, Ohio, Carson (California) and Portland (Oregon.) Two of the best websites to follow the action are at cnn.com/soccer and at soccernet with up-to-date scores and suchlike, plus another one that's too long to name I only get reference to from time to time, and only in certain newspapers.
China was slated to host the tournament, held every four years, but fear over the SARS outbreak forced a quick shift in May to the States, where event organizers had to make a quick scramble for venues, selling tickets, accomodations for the teams from across the world, arrangements for the worldwide media and (of course!) souvenirs and other trinkets.
Participating teams include the US (winners in '91 and '99), Sweden (the '95 winner), North and South Korea (that should be an interesting matchup if they both get that far), Nigeria, Norway, Brazil, France and Germany (another longshot matchup), Canada, Japan and Argentina, along with China, Australia, Russia and Ghana.
Which leads me to wonder... I know it's an extremely popular sport in England, but are there women's leagues? (Things That Make Me Say Hummmm.)
So anyway, the 16 teams are split into four random divisions and play each other in round one, the best records meet in the quarterfinals, then the semifinals, to the finals in California later this month. Amazingly, 19 of the games are being televised, by ESPN, ESPN2 and the finals on national over-the-air broadcast with the ABC network, so those with 'premium' teevee services can watch a good bit of the competition.
And between the teevee remote and this here keyboard, I'm sure to get carpal tunnel, tunnel vision, and I don't see any light at the end of the tunnel for this sports junkie. Egon has informed me he's limited in internet access, but he expects to be back shortly, but I'm rather enjoying these forays into international sports.
So once again, this is Several, a/k/a Random, who always looks both ways at railroad crossings, over and out.