The h2g2 Poem
Created | Updated Sep 24, 2003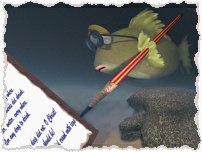 Written when the author released a treatise upon the maxims of life into the bend named 'U'

The floppiest disk in the the astronomical world,

Is not excused from vehement travesty,

And indeed my hair had rather curl'd,

When mine eyes perceived such grievous majesty.

Down the cavernous opening it fell

As it absorb'd my inherent shock.

It lay at that bottom of that miniscule well

And began to absorb the watery flock.

The Blue Duck did swim as my hand did reach

To retrieve my lost Perdita,

But what horror! mine fingers, taint'd with bleach

Stank like some abominable creature.

The disk, return'd to its native land

Seemed well enough in its euphoria,

But that cure did not work for the work I had planned

That was saved upon mine dossier.

Oh, Chemistry, lost forever now,

Never to give on the day of Thor.

Friends - never take a floppy disk into the room with the towel

'Twill be the sorriest sight you ever saw.