Sporting With Egon
Created | Updated Sep 17, 2003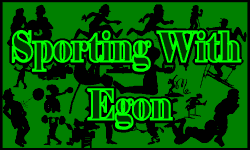 Egon is still away so he has entrusted his column to several a/k/a Random.
Hey there, hi there, ho there, Post People!! A couple of international sports notes this week to start off. This first had to be explained to me by a fellow poster on the Cleveland Indians' Fan Forum, and it began to make sense: Chelsea, the English Premier League team whose new owner, Russian oil tycoon Roman Abromovich, has spent some $160 million$ on hiring players since taking over the club July 1, has signed Peter Kenyon, the CEO for league champion Manchester United for a front office position. Sounds to me like what 'King' George Steinbrenner of the Noo Yawk Yankers is doing in baseball over here - buying his way into championships.
American sports pundits are also having fun with Britain's ITV Network, which is planning a special entitled 'David Beckham's Body Parts' which is purported to be a 'scientific look at each part of Beckham's anatomy to assess its worth and uniqueness'.
Oh my goodness sakes alive!! Tom FitzGerald of the San Francisco Chronicle notes that 'it's time for a similar documentary on Anna Kournikova' and I couldn't agree more.
So, over here across the pond, college and professional football seasons have begun, and pro baseball's race to the championship is in full swing. Sports junkies from all over are wagering million$ on the outcomes of the contests, but no one could have predicted Sunday's record-shattering semi-ovoid outburst by Jamal Lewis of the Baltimore Ravens, rushing for 295 yards in a 33-13 trashing of the beloved Cleveland Browns - except Jamal Lewis himself.
Lewis was a guest on a media telephone call Wednesday last when Browns' linebacker Andra Davis expressed the hope that Lewis would get 30 carries in the ballgame, so he would have 30 chances to knock Lewis into next Tuesday. Lewis replied to the verbal challenge by promising a record-setting game, and he backed up his boast on the field, smashing the old single-game rushing record by 17 yards - and he had a 60-yard touchdown run called back because of penalty!! Full reports, as always, are available online at www.nfl.com and such sites.
Also notable since my last missive is that St Louis Rams quarterback Kurt Warner was sacked six times (tackled behind the line of scrimmage) and fumbled six times in Week One of the season, and spent the night in hospital with a concussion. Rams' coach Mike Martz responded to the media questioning of his leaving Warner in the game by explaining, 'well, he answered all the questions we asked him.' It is not known whether Martz passed his own test.
Over to baseball, with two weeks left in the 162-game season that began for me in the snows of Boston, trying to figure out what was a snowflake and what was a baseball, both the American and National League East and West divisions are pretty much wrapped up by the Noo Yawk Yankers, Atlanta Braves, San Francisco Giants and Oakland Athletics, although the A's are only three games in front of the fading Seattle Mariners, but the big issues are in both Central Divisions and the race among all teams for the leagues' respective 'wild card' playoff berth, awarded to the second-place team with the best overall record.
The Houston Astros are 2 games ahead of the Chicago Cubs in the National Central, and the Minnesota Twinkies (Twins) are even with the Chicago White Sox at presstime in the American. In the National wild card, the Florida Marlins have a game-and-a-half lead over the Phillies of (where else?) Philadelphia and 2.5 over Da Bumz, the Los Angeles Dodgers, and don't get me started on where these teams got their nicknames and why. That's a whole 'nother column for a cold night in March. In the American wild card, the Boston Red Sox hold a half-game advantage over the Mariners for the final playoff berth.
What else? Here's a note on the recent US Open tennis tournament that says Justine Henin-Hardenne defeated Kim Clijsters for the women's title, and there is some public discord in the Belgian media with the girls' followers trash-talking the other...
A Final Note... this last week's Sports Ilustrated magazine makes fun of itself by running the words 'sports illustrated' through www.wordsmith.org/anagrams and suddenly becomes Lurid Topless Tarts, perhaps in honour of their yearly bikini-and-less bathing suit issue - which also makes its' appearance in February/March... here I am, writing about sports teams nicknames in the dead of winter while the rest of America ogles little girls... I really ought to get out of the house more often. Egon, where is that pub and how do I catch a ride on the beer scooter?
A Final, Final Note...

'I hear that train a-comin'

It's rolling round the bend

And I ain't seen sunshine

Since I don't know when...

I got stuck in Folsom Prison

And time keeps draggin' on

I hear that lonesome whistle...'

Rest in Peace, Johnny Cash, the Man In Black, who helped make blues and country music into rock-and-roll.

So this is several, a/k/a random from along one or both of the shores of the Great Lake named Erie - north coast or south shore? You put your left foot in and your right foot out and you're facing east, more or less, until you dance all about.