Bye, Dad
Created | Updated Jul 30, 2003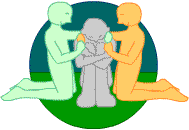 This piece relates to two previous Post article called Abandoned and Visiting My Father in which Vicky relates her anger at being abandoned by her father at an early age and her mixed emotions when discovering he was very ill.
I phoned the hospital that morning, as I did every morning, to see how he was. Not good. This was it.
I picked up the telephone and rang my mum. She tried to be soothing, but something inside me now was making me see things in a different way. I had to be there. I telephoned my sister's place of work and asked to speak to one of my sister's bosses... both were unavailable. I asked the receptionist to take my sister to one side and tell her discreetly that this was the end. This was the time that if she wanted to see him again, she needed to go. Now. She promised me she would.
A work colleague at my place of work offered to take me to the hospital, but it took me an hour to accept the lift. Why, I don't know.
When I got to the hospital, my sister was already there, along with my step-mum. Both looked drawn and I remember I quickly glanced to my father's chest to see if it was still rising and falling. It was... I was sort of relieved by that, but also a little 'let down' if that makes sense. Perhaps I wanted it to be the end. I'm unsure of what I was thinking at that time now.
We spent all of the morning and most of the afternoon talking. My step-mum was filling us in on things our father had done in the 18 years we hadn't seen him. They had a good life. Nothing lavish or over the top. Everything saved up for in advance. Something I was shocked to hear my father had done!!! He always lived hand to mouth.
My Uncle Ian arrived at the hospital. He greeted us warmly and I gave my chair up for him so he could sit next to his brother. He just sat there and stared.
Then the most heartbreaking thing of all happened...
He woke up coughing... he didn't have the strength to clear his chest properly and was struggling to breathe. We fussed around him trying to make him comfortable, but we knew he was in pain. Then he started mumbling. We leaned closer in to hear what he was saying... he was saying 'help me' repeatedly. So I dashed outside the private room and found a nurse - asking her for more pain relief for my father... she followed me in and asked my father if he was OK... his words were 'don't know'.
She went out the room and came back a few minutes later and asked us to leave whilst she gave him the injection.
When we went back into the room his piercing blue eyes held me at the foot of his bed. He looked at me directly in the eyes and said 'help me, help me, help me'. My heart broke. He was asking something of me I couldn't do. I glanced at my sister who had turned to our Uncle for support. We both knew what he was asking for, and it was something we could not give him. He eventually went back off to sleep.
Those words would be the last words he would ever say to me... on Thursday evening, I telephoned the hospital again, to see how he was. My father had died shortly before I rang and the family were being informed as we spoke.
At peace then.
Dad. When I first saw you in hospital we chatted a lot about nothing but, when I was leaving, you said three words to me. Three words that meant a hell of a lot to me.
They were, 'I love you'.
I remember I just smiled at you, nodded and walked out, but I never said them back to you, because I didn't have anything to give back to you. Not then. Now I do.
Dad. I love you and always will.
For ever, your darling daughter.