On This Day In History
Created | Updated Jul 10, 2003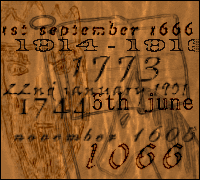 Never one to let a good idea go to waste1, I would like to reintroduce to
h2g2 'On This Day In
History', slightly tweaked into a new,
shiny format. The lovely Italix had the presence of
mind to drop a number of pages where people could
leave their fun-filled facts. Why not pop over and
drop a suggestion. It may well find its way onto the
page!

10th July
1856

Birth date of Nikola Tesla. The Serbian-American
inventor, electrical engineer, and scientist developed
over 700 patents, including wireless communication,
radio, fluorescent lights and the alternating
current.

1958

The first parking meters were installed in Britain.
The honour was given to Mayfair, London and 625 meters
were put in position.

Gedge

1989

Mel Blanc dies, aged 81. Immortalised as the voice of
many cartoon characters, including Bugs Bunny, Porky
Pig, Daffy Duck, Tweety and Sylvester. He also
provided sound effects for many programmes, including
The Jack Benny Show.
Researchers Born On This Day
11th July
1274

Birth date of Robert the Bruce. Bruce was crowned the
King of Scotland at Scone on March 25th, 1306. After
being crowned, Bruce tried to overthrow the English
Invaders. After defeat, most likely after the Battle
at Methven and Dalry in the winter of 1313, Bruce
withdrew into a cave. It is said that here Bruce saw a
spider take several attempts to make a web. This gave
him the encouragement he needed not to give up. Bruce
went on to the glorious victory at the Battle of
Bannockburn in 1314.

1989

Sir Laurence Olivier dies, aged 82. He was nominated
for 12 Academy Awards and won 2. He was also honoured
with 2 special Oscars. In his long career, he appeared
in more than 120 stage roles, almost 60 films and over
15 television productions.

1991

Total solar eclipse is seen in Hawaii.
Researchers Born On This Day
12th July
100 BC

Birth date of Gaius Julius Caesar. He was assassinated
on the Ides (15th) of March, 44 BC.
Gedge

1776

James Cook set sail from Plymouth, UK on his third and
final expedition on the ship Resolution. It was a
search for a Northwest Passage across northern North
America to Asia.
Gedge

1960

Launch of the first passive satellite. Echo 1 A was a
communications satellite that was put into orbit with
an altitude of 1600 km. Its job was to reflect
received radio signals.

13th July
432 BC

The origin of the Metonic Cycle. It was proposed by
the Greek astronomer Metos and linked the dates and
phases of the moon with solar years. The cycle has a
period of 19 solar years, with a thirteenth month
every seven years. 19 solar years equals 6939.60 days,
whilst 235 lunar months equals 6939.69 days. That is a
discrepancy of less than 2 hours. As a result of this
relationship, it is possible for a series of eclipses
to occur on the same dates 19 years apart. This is the
importance of the Metonic cycle. It allowed extra
months to be added in to keep the lunar calendar and
solar calendar (seasons) in step.

1930

The first World Cup final held between Uruguay, the
hosts, and Argentina. Uruguay won 4-2.

Gedge

1940

Birth date of Patrick Stewart. Stewart immortalised
the role of Captain Jean-Luc Picard in Star Trek, The
Next Generation. He has recently starred as Professor
Charles Xavier in the movies X-Men and X-Men
2.
Researchers Born On This Day
14th July
1858

Birth date of Emmeline Pankhurst in Manchester,
England. Founder of the Women's Social and Political
Union in 1903, the Union that campaigned for
Women's vote in Britain.

1989

The 16th James Bond movie License to Kill
premiers in the US. Starring Timothy Dalton as Bond,
there was a 6-year gap between this film and the next,
GoldenEye.

1990
Howard Stern's Summer Show premiers on WWOR-TV.

Researchers Born On This Day
15th July
1099

Jerusalem re-captured by the crusaders. They were led
by Godfrey and Robert of Flanders. Before then, the
Christians, Muslims and Jews got on remarkably well.

Gedge and Campi

1888

The Bandai Volcano, situated 130 miles north of Tokyo,
erupts for the first time in 1,000 years. It killed
461 people and destroyed hundreds of homes. The last
tremors were recorded in 2000, leading to evacuation
of the nearby areas.

1965

US scientists display close-up photos of Mars taken
from Mariner IV. They showed the landscape of 600,000
square miles, one per cent of the planet's
surface.
Researchers Born On This Day
16th July
622

Origin of the Islamic Era, when the Prophet Muhammad
left Mekka for Yathrib (Medina).

1911

Birth date of Virginia Katherine McMath, also known as
Ginger Rogers. Born in Independence, Missouri, the
actress and dancer performed a number of famous roles,
captivating and enthralling her audience.

1945

The first Atomic bomb, developed by Dr Robert
Oppenheimer and his team at Los Alamos, was exploded
in New Mexico.

Gedge
Researchers Born On This Day
On This Day
in History Archive
1Or,
at least not to mind too much after being told that I
am merely resurrecting a fabulous idea that Abi and Peta had over three
years ago!