Sporting With Egon
Created | Updated Mar 19, 2004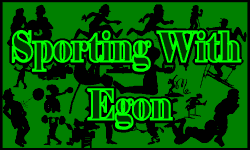 Over two months since his last column, the intrepid sports reporter lifts his battered and bloody hands onto the computer keyboard and tries to remember what he was going to say. Oh yes, baseball, ice hockey, cricket, tennis, football and what the hell I've been up to for the last two months, that was it. We continue...
What the hell I've been up to for two months
I've been absent due to a combination of exams, essays, lack of internet access and often pure laziness for two months and, in that time, I've been to four sports matches. Four! Here they are, in order:
FOOTBALL: England v Turkey, Stadium of Light: England won 2-0, Wyane Rooney played very well in his first international start, Darius Vassell and David Beckham scored the goals and many of my fellow England fans acted like imbeciles.
CRICKET: Durham v Scotland, Chester-le-Street: Got into this free courtesy of the Journal newspaper to see Scotland, in their first National League Cricket game, best the thoroughly inept Durham side. Scotland's fans were fantastic, and in Glasgow-born Majid Haq have a fantastic spinner. Australian-born bowler Paul 'Dusty' Hoffman seems to be something of a favourite as well. Lovely.
CRICKET: England v Zimbabwe, Chester-le-Street: See Below.
FOOTBALL: England Under 21s v Slovakia Under 21s, Stadium of Light: England youngsters edged it 2-0, both goals created by busy winger Jermaine Pennant, one an own goal, the other scored by Sheffield United's Phil Jagielka, who formed a useful central defensive partnership with Everton's Peter Clarke. The atmosphere was a lot more pleasant than for the England - Turkey game, and rather than booing the opposition national anthem, something of a habit among some England suppporters, the 11,000 spectators stood respectfully for the Slovakian anthem, and applauded at the end. The only thing that marred it was the teenage arseholes sitting five rows behind me, lobbing extra strong mints. Believe me, those things hurt more than you'd think when they hit you on the temple on a downward trajectory from five rows back. A message in case the tosspots in question are reading this1 - try that with someone more disposed to violence than me and I don't think you'll like the response. They might go further than informing a steward. Twats.
England win at cricket!
I mooched on down to Chester-le-Street for the second day of test cricket in the North East between England and Zimbabwe. Bearing in mind that England had won the first test at Lords in three days, I thought we might get a bit of action. At the end of the first day England were 298-5, something of a recovery from 152-5 thanks to the batting of septugenarian 2 wicketkeeper Alec Stewart and Anthony McGrath, the Yorkshire captain making his second test appearance.
Well, we saw the old codger add a few to his total, and McGrath reach 81. But it was the tailend who were a revelation. Ashley Giles scored only his second ever test fifty, his first having been in the first test. Debutant bowler Richard Johnson bashed the ball about a bit to make a quickfire 24 off 14 balls which wowed the crowd, and even Steve Harmison and Jimmy Anderson didn't bat as badly as they normally do. England reached 416, not a bad total.
But England were only just getting started. Zimbabwe were then skittled for 94, in itself a recovery from 23-5, and seven men got out LBW. Johnson picked up 6-33, the fourth best bowling figures for an England player in his first test innings. Five of his were LBW. With the exception of 20 year old Zimbabwean wicketkeeper/middle order batsman/vice captain Tatenda Taibu, Zimbabwe were awful, and they found themselves folowing on. They were much betetr second time round, and only one man was out by close of play, Mark Vermeulen for a pair 3. Vermeulen was later sent home from the tour for 'persistent misconduct' which, if not being able to play a defensive shot counts as misconduct, is fair enough. Zimbabwe's second innings continued on Saturday, and they put up a spirited fight, but it was too little too late as England won by an innings, Steve Harmison and Jimmy Anderson both taking four wickets in the second innings, to clinch a 2-0 series victory.
Also while at the game, a friend and I indulged in a game of 'I'm an 80s test cricketer get me out of here' We had originally called the game 'spot the 80s test cricketer' but then spotted Phil Tufnell near the Media Centre, and changed our minds. Now, as our seats were right by the Sky commentary box, this wasn't hard, and we racked up Ian Botham, David Gower, Michael Holding, Bob Willis, Dave Houghton and David Lloyd (those last two we weren't too sure about). I also drank a lot in the beer tent during breaks in play, and bought a bush hat. A good day for all concerned.
Well, except Zimbabwe.
JUSTINE HENIN-HARDENNE
I'm a relatively big tennis fan, and hence get mightily pissed off when the BBC don't show much of tournaments which aren't in England, on grass. I am also a massive fan of the most elegant and skillful player in World tennis. Justine Henin-Hardenne.
Our Justine plays tennis the way it should be played, delicate shots, killer positioningand the most divine backhand I've seen outside repeats of Evonne Goolagong games.
Henin-Hardenne has climbed to the heady heights of world number four, behind the Williams Sisters (Serena: Number 1, Venus: Number 2) and Henin's fellow Belgian Kim 'I'm dating Lleyton Hewitt, me' Clijsters. However, Justine's beautiful game has traditionally crumbled when up against the brute force of a Williams sister, and hence she has never won a grand slam event, with the Williams sisters playing interminable finals against each other, where the neutral observer loses the will to watch tennis.
Until now. 2003 French Open - Venus goes down in the fourth round against 22nd seeded Russian Vera Somethingorotha4, who then got beat in the quarter finals by unseeded russian Nadia Petrova, who had already done for Jennifer Capriati and Monica Seles. Petrova then lost in the semis to Kim Clijsters.
AND THEN THERE'S JUSTINE! She met Serena Wiliams. That's big serving, hard hitting World Number One Serena Williams. You know, one of the sisters that Justine always loses to. Well, not this time! A three set victory of old fashioned style over modern power sewed up the first ever all-Belgian grand slam final. And then Justine Henin-Hardenne blew Kim Clijsters out of the water in a match atended by the Belgian royal family. 6-0 6-4. That was the score by which Justine Henin-Hardenne went from the nearly girl to the champion. At 21, and having proved that style still works, can she win Wimbledon. I darn well hope so.
Tim Henman won't win Wimbledon
Seriously, he won't. Everyone said he had done well at the French Open, when he lost in the third round to the first good player he played. He'll reach the fourth round or quarter final, go down in five sets to someone better than him and be hailed as brave and unlucky. As per normal.
Stanley Cup
NHL Ice Hockey's annual event, the Stanley Cup Finals, a best of seven series to decide the NHL champions, took place over the last two weeks. The New Jersey Devils won their third Stanley Cup in nine years by beating off a spirited challenge from the Mighty Ducks of Anaheim, traditionally ice Hockey's laughing stock, winning the series 4-3; the Devils winning all four games in New Jersey, the Ducks winning all three in Anaheim. Most Valuable player of the series, however, was Ducks goaltender JS Giguere, who was the shining ruby in the mountain of functional but unspectacular rocks which made up his team. If it hadn't been for his superb goaltending, the Ducks would have been dead and buried by game five at the latest. I'm just hoping my boys, the Boston Bruins, are going to be contending next year, although I rather doubt it.
Who gives a toss who David Beckham plays for?
I know I don't, so I'm buggered if I'm going to go through all the machinations of his possible transfer for more than he's worth. If you really care, just read this
Baseball Blues
A man who has been away from this column even longer than I have is my erstwhile American football correspondent Several a.k.a. Random who returns this week, not discussing American football 5 but offering his own idiosyncratic views of the Major League Baseball season, which is in progress yankside. Baseball is my favourite US sport so naturally I couldn't turn down the offer of these words of wisdom for the column:
Hi, folks! Egon is allowing me a corner of his space to talk about baseball for any of you's who wanna read, and if there's one thing I'm good at, it's filling up space... the big baseball story this week is the discovery of an illegal corked bat used by the ChiCubs' slugger, Sammy Sosa. Much ado is being made because one of his 80-some bats had cork in it, which may or may not add to his prodigious home run power, the physicists have differing opinions on if it really helps...

Interleague games are being played now, for the most part, in which National League teams play American League teams under slightly different rules, like the use of a designated hitter for the pitcher 6 and that also makes for some interesting situations.

Former Boston Red Sox (BoSox) pitcher Roger Clemens, now pitching for the Noo Yawk Yankers (yes, Egon, your New York Yankees) failed in his third attempt at winning his 300th career game over the weekend, a historic mark... both Clemens and Sosa are on the verge of Hall of Fame careers, Sosa with 505 career home runs and Clemens with 299 career victories. 500 and 300 are the basic standards for the game's elite, but Slammin' Sammy just turned into Scammin' Sammy, and Roger the Rocket ain't exactly blasting off...

I could recite the standings, but, if you care, you already know to goto mlb.com for all your baseball info. The teams are only a little over 1/3 of the way into the 162-game schedule before the playoffs start. MLB just crasked down on the Forums, where idjuts like me can voice our opinions, and not allowing different fonts, colors or individual sigs because of a spate of trolls that were trying to post filthy, nasty pics and words... the sins of the few penalize the many, but I can understand a CERTAIN level of decorum necessary in public places.
Next week
In next week's column: The football matches taking place on the Wdnesday I'm writing this - sorry they're too late for me to include this week, the Stella Artois tennis at Queen's Club, and Twenty20 Cricket, as I may well be going to a game of it on Friday. Anyway, toodle pip for now.
Egon
1Not very likely, as that would assume the ability to read, the capacity to turn on a computer, a knowledge of this site and an attention span that doesn't cause them to lob things after a few minutes of boring play
2No, not really. He's only 40.
3A duck, or score of nought, in each innings.
4I can't be bothered looking up her real name, OK?
5Although NFL Europe holds it's World Bowl between Frankfurt and Rhein in Glasgow this weekend - the Scottish Claymores narrowly missed out on qualification.
6Traditionally a non-hitter and weak spot in the team's lineup.