A Baby Doctor Writes...
Created | Updated May 28, 2003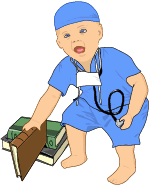 As a Baby Dr I was once told 'Your Dad must be spending a lot of money sending you to University for five years'
A few years ago a certain saving company ran an advert encouraging people to save for their children's future. In the first scene, a young girl tells her parents that she wants to be a doctor, in the second the father asks how long it will take1 and looks suitable shocked at the cost. Next he visits a certain financial services company. There was a billboard poster to accompany the advertising campaign, University, the poster read, because of You, accompanied by a picture of a small child.
For those of you that are not in the United Kingdom I will digress into some background. In 1998, the previous system of grants was abolished, and a system of student loans was introduced, in addition some students were required to pay for their university tuition. Since then there has been a widespread perception that it is impossible to go to University without your parents help.
Right wing newspapers advise parents on the best investments for their children's future, left wing newspapers carry stories of the tragedy of the situation. The National Union of Students claims that one in four students will drop out of their course, they assume the majority to be due to money.
There is one problem with this argument - it isn't true. I have never received a penny off my family in my three years at university2 as my parents aren't earning enough then I don't have to pay tuition fees, and I get a full loan. Which is enough to live on. It's enough to pay the rent, the bills, have enough to eat, and to have a few drinks once a week. No it isn't enough to drink as much as I do, or to run a car, or to go backpacking in Thailand for twelve weeks in the summer. But the University very kindly give me three months off a year; as a temp in Birmingham, I can easily earn £200 a week during that time. Which rather nicely pays of my overdraft or a holiday if I have been careful. If I do get into a financial mess then there is the Hardship fund to help out, all I have to do is prove that I haven't blown it on alcohol. I know of students who have been in children's homes and manage, financially, to go to university, and in some cases stay on to do a post graduate course.
Of course there are some students who claim that they have dropped out of university due to lack of money, I met one once. Our conversation went something like this...


Student - my Dad lost his job and I had to leave university


Z - why not apply to the hardship fund,


Student- they want to see my bank statements, and I've spent half my loan on weed3
The problem is no one really loses out from this lie. The banks sell more savings accounts. The middle class student who declares that the student loan isn't enough to live off get a little more money off their parents, the students in the NUS get a better chance of jobs in the Labour party. The above student is now active in a certain left wing student group, giving speeches about how he was forced out of higher education by Tony Blair.
But there are people who lose out; the working class sixth form students who assume that they couldn't afford to go to university.
The real paupers at university's these days are the middle class student who's parents, after a means test, are supposed to contribute to their education and don't. These are the shadowy breed of students who are found working in bars and nightclubs to pay for their education. Those students who's parents can't afford to contribute squirm uncomfortably when they discuss money, feeling embarrassed at our own good fortune.
A Baby Doctor Writes -
Archive
1Incidentally he got a completely incorrect answer.
2I lie, I once got a twenty pound note off my grandmother.
3Aqua cannabis.