Sporting With Egon
Created | Updated Mar 19, 2004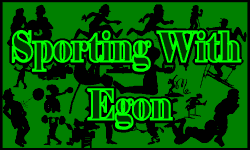 Six nations rugby, international football, and managerial and captaincy merry-go-rounds
So, after six scintillating weeks of the cricket world cup, interspersed with a regular column, and Alfredo Marquez's guest report on the Worthington Cup final, it's back to good old 'Sporting With Egon'. This week's guest reporter is Demon Drawer, writing about the winner-takes-all conclusion to the Six Nations Rugby Union competition, between Ireland and England. There's also a weekend of international football to report on, a bit of shuffling of cricket captains and a look at what's been happening on football's managerial merry-go-round. The Wednesday night football games will get some coverage next week, complete with a match report on England v Turkey at Sunderland's Stadium of Eternal Darkness 1. Anyway, enough of this, on with the Rugby...
Sunday afternoon saw the Giants of this year's RBS Six Nation's Championships clash for a 'winner takes all' show down for the championship, triple crown and Grand Slam. The previous week Ireland had won a nervy injury time victory over Wales to win the right to play for their first Grand Slam in 55 years. England had had an easier passage to this match but had narrowly lost out in three of the last four years.
Landsdowne Road came alive early when David Humphries dropped a goal to give Ireland a three point start. But this was soon wiped out by a Dallaglio try which Wilkinson's safe boot converted.
Humphries missed one penalty before converting another to close the gap to 1 point before a drop goal from Wilkinson and a penalty in injury time made it 13-6 at half time despite a great deal of pressure from the Irish on the English line, which was well supressed.
The second half saw England with the wind in their favour and they managed to keep the Irish in their own half but were unable to increase their lead until the 59th minute; a Wilkinson drop goal being disallowed for an infringement. However, once Mike Tindall broke through from the Irish 22 for England's second try, the floodgates opened. Tries from Luger sandwiched between two by Greenwood and a second drop goal by Wilkinson led to an impressive 42-6 win for the World's number one team.
INTERNATIONAL FOOTBALL: European Championship Qualifiers
England beat Liechtenstein 2-0; a much lower score than many expected. The England side looked jaded, unimaginative, and, quite frankly, amateurish. Liechtenstein also looked amateurish, but since half of them are amateurs, I think they can get away with it. I'm just praying that by the time you all read this England will have shown a vast performance down the Stadium of Eternal Darkness2. Most people are speculating over whether 17-year-old Everton striker Wayne Rooney would play on Wednesday, and my guess is that he won't have (man, it's difficult trying to predict the future). England are second in group 7 (top team qualify, second into play-offs), two points behind the Turks (before Wednesday's game) having played a game more.
The Welsh, meanwhile, have been playing some cracking football this season - their 4-0 battering of Azerbaijan (pay attention, England, this is what you should be doing to dodgy little teams) meaning that they have won the first four of their eight games (including victory over Italy). It is now looking likely that Wales manager Mark Hughes, in his first managerial post, could take Wales to their first major championships since 1958 - that was before Mark Hughes was born. Wales are top of group nine, five points clear of the Italians.
Other British teams: Scotland won at home for the first time under Berti Vogts, leading their group. Northern Ireland got beaten by Armenia.
Republic of Ireland: the Irish won in Georgia, in a match marred by the throwing of objects from the crowd towards the Irish players - ball bearings, bottles and glass were all thrown, but most shocking was the open penknife thrown at Sunderland midfielder Kevin Kilbane.
There will be a more in-depth look at International football next week - I will be unable to update this after the Wednesday games, as I need to do so in the University of Sunderland 24 hour library, which closed early during the football on Wednesday
HOWARD'S END
While I've been concentrating on the Cricket World Cup, there have been some goings on at the Stadium of Eternal Darkness. You may remember back in October, I catalogued the departure of Peter Reid as Sunderland manager and the arrival of Howard Wilkinson in his place, with Steve Cotteril as Assistant manager being groomed to replace Wilkinson eventually. Well, they both got kicked out while I wasn't writing these columns, and have been replaced by Mick McCarthy, former manager of the Republic of Ireland. He's going to have to perform, miracles to keep them in the League though.
Reid, meanwhile, is back in management at the soap opera known as 'Leeds United', following the departure of Terry Venables, who was angered by chairman Peter Ridsdale's habit of selling all his players. Reid is getting paid per point (poor bloke) and is only caretaker until the end of the season as he attempts to keep the side in the Premier League. Then, on Sunday night, Ridsdale departed as chairman, to be replaced by John McKenzie, who has revealed that the club is almost £80 million in debt, and they're going to have to sell some more players.
Elsewhere: Fulham manager Jean Tigana has been informed by Chairman Mohammad Al-Fayed that his contract will not be renewed at the end of the season. There are also rumours that Tottenham may sack former England boss Glen Hoddle at the end of the season. Also, Derby County manager John Gregory has been suspended from work over 'serious allegations' rumoured to centre around the treatment of Craig Burley when he was recovering from injury. Burley's Uncle, former Ipswich boss George Burley, has been appointed to look after business in the meantime. Burley was ousted from Ipswich earlier in the season, to be replaced by former Everton, Oldham and Manchester City manager Joe Royle, who just won the Division One manager of the month award for March for the radical improvement Ipswich have shown, despite being in such dire financial states that they're having to sell players. Derby have similar financial difficulties, so Burley should feel at home.
CRICKET CAPTAINCY
England have yet to decide who will replace Nasser Hussain as captain of the one-day team. Michael Vaughan and Marcus Trescothick look the most likely candidates, with Adam Hollioake in the picture, and Paul Collingwood an outsider. Worcestershire have replaced Graeme Hick as captain with Ben Smith. The West Indies have given the captaincy back to Brian Lara as Carl Hooper considers his future. Pakistan have ousted Waqar Younis, replacing him with Rashid Latif.
Egon