The ICC Cricket World Cup 2003 - The Final
Created | Updated Mar 19, 2004
SPORTING WITH EGON
presents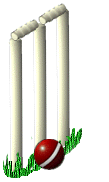 THE ICC CRICKET WORLD CUP 2003
THE FINAL
Ever-dominant Australia sweep aside the final object in their path.
THE SECOND SEMI-FINAL
India were never in danger as they swept past the plucky Kenyans in the second semi-final, some bug hitting from the Kenyan tail could not mask the fact that they were no match for Sourav Ganguly's boys, and a 91-run Indian victory was the outcome. So India v Australia in the final then...
THE WORLD CUP FINAL, Johannesburg
Australia beat India by 125 runs
Australia clinched their second succesive World Cup in style in Johannesburg. Their opening partnership of Matthew Hayden and wicketkeeper Adam Gilchrist put on 105 for the first wicket, before Gilchrist was dismissed for 57 from 48 balls, caught by Virender Sehwag off the bowling of Harbhajan Singh. Hayden followed shortly afterwards, also off the bowling of Harbhajan, but this time caught by keeper Rahul Dravid. Hayden scored 37 from 54 balls. At this point Australia were looking the better of the two sides, but not neccessarily dominant. That soon changed. The third wicket partnership of Damien Martyn, recovering from a broken thumb, and captain Ricky Ponting, destroyed everything the Indian bowling attack could do. The Indians ended up using no less than eight bowlers, but none of them could stem the flow of runs, nor could they break up the partnership. Ponting hammered eight sixes and four fours en route to an amazing 140 from 121 balls. Martyn also chipped in with his fair share, scoring 88 from 84, with seven fours and a six. The figures of India's prime fast bowler Javagal Srinath sum up the innings - 10 overs. No maidens. No wickets. Eighty-seven runs! Not a single maiden over was bowled in the course of the innings, and Australia's total of 359-2, scored at over seven runs an over, was astonishing, and India must have known that they stood absolutely no chance of beating it.
India's innings got off to the worst possible start as Sachin Tendulkar was dismissed in the first over, offering a return catch to Glenn McGrath from the fifth ball of the innings. Tendulkar out. 4-1. Over? A partnership of 54 between Sourav Ganguly and Virender Sehwag must have restored a modicum of hope, but when Ganguly and Mohammad Kaif went to McGrath and Brett Lee respectively, leaving the total 59-3, India's ever so slight hopes of victory had evaporated. Even a partnership of 88 between Sehwag and Dravid couldn't save them, and once Sehwag had gone for 82, and Dravid for 47, the team capitulated, finishing 234 all out inside 40 overs, McGrath, Lee and all-rounder Andrew Symonds the dominant bowlers
So, Australia retain their World Cup and will be hoping for three in a row when the whole kerfuffle moves on to the West Indies and the United States in 2007. Ricky Ponting won man-of-the-match, and Tendulkar claimed man-of-the-tournament. The Indians were gracious in defeat, and the Aussies didn't gloat too much. Six weeks of Duckworth/Lewis, super sixes and political unrest is over. And the Aussies are still too bl**dy good.
Egon