Meat Loaf - the Singer
Created | Updated May 28, 2013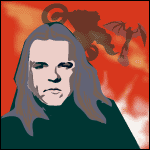 By anybody's reckoning, Marvin Lee Aday has come a long way from being a fat kid in Texas to the global rock sensation known as Meat Loaf1.
A Wasted Youth
Born in 1947 in Dallas, the young Marvin Lee spent plenty of time being embarrassed by his weight and his father's drunken antics. Indeed, his autobiography is full of stories of picking his father up from all kinds of seedy bars where he may have ended an evening, as well as a tale about his father drunkenly hurling abuse at his high school football coach. There are a number of stories regarding how he acquired the moniker 'Meat Loaf', although the one used most often is that he trod on his PE teacher's foot, which met with the response: 'Get off me , you big lump of meatloaf!'. All the stories about the nickname originate from his build and girth. At the age of 19, following his mother's death, Meat's father became more and more violent towards him, and constantly threatened and taunted him. Meat had had enough and ran away to Los Angeles to seek his fortune.
The Early Years
The teenage Meat's arrival in LA in 1967 did not lead to instant success. He formed his first band, a power trio called Meat Loaf Soul, and later Popcorn Blizzard. His big break came when he was cast as Ulysses S Grant in the musical Hair in 1970, following the break-up of Popcorn Blizzard. While performing in Hair he met a female singer called Stoney. Under the imaginative name of Stoney and Meat Loaf, they released a self-titled album on the Rare Earth record label, which led to being signed by Motown on a seven-year contract. However, after the release of their single 'What You See Is What You Get', the duo fell out with Motown and agreed to sit out their contract - taking advantage of the fact that it never specified how many albums they should release. This 'strike action' occurred after it came to light that a song they had recorded had been stripped of lead vocals and given to another group to re-record because their version was deemed unsatisfactory. Meat continued to appear in musicals and his appearance in a performance of The Rocky Horror Picture Show, the film of the musical, playing Eddie and meeting a decidedly messy end. It was around this time that Meat Loaf met Jim Steinman, a partnership that would catapult him to global fame.
Enter Jim Steinman
Jim Steinman is an eccentric songwriter who first came into contact with Meat Loaf in the mid-1970s when he cast him in his musical More Than You Deserve. Steinman and Meat Loaf soon decided to record an album together, and the songs they chose were seven magnificently over-the-top anthems from Steinman's planned rock opera, Neverland2. Some of these songs were duets, so a female vocalist had to be found. Stoney and Meat Loaf were no longer performing together - she had gone on to be backing vocalist for Bruce Springsteen, among others - so they chose Ellen Foley. Steinman didn't think a demo tape could do justice to his songs, so they traipsed around the major labels, to no avail - an overblown musical concept was not considered a good recording prospect. But by the time Stoney and Meat Loaf's Motown contract expired in 1977, Todd Rundgren, leader of rock group Utopia, agreed to produce the record and release it himself.
Bat Out Of Hell
With an opening verse containing references to screaming sirens, howling fires, guns, blades, thunderous skies, bloodshot streets and foaming young boys, on the back of a two minute guitar solo which sounds like a motorbike engine, Bat Out Of Hell is clearly not a run-of-the-mill offering. Todd Rundgren was responsible for the idiosyncratic 'revving', and the musicianship of the Neverland Express, a backing band assembled by Meat, Steinman and Rundgren. A couple of members of Springsteen's E Street band were present, and bassist Kasim Sulton still plays live with Meat Loaf today. In the end, Rundgren couldn't finance a release for the debut album himself, but it did emerge on the Cleveland International Record label (a division of Epic), and was a big hit. The title track, a ten-minute guitar and piano driven rock roller coaster about love, death and motorbikes, was backed up by six other tracks: the poppy 'You took The Words Right Out of My Mouth', the epic, heartfelt ballads 'Heaven Can Wait' and 'For Crying Out Loud', 'All revved Up With No Place To Go', the Eagles-esque 'Two Out of Three Ain't Bad', and 'Paradise By The Dashboard Light' completing the listing.
Within a year, Bat Out Of Hell was climbing both the UK and US charts, and every track except 'For Crying Out Loud' was released as a single. To date, Bat Out Of Hell has racked up an astonishing nine years in the UK charts, surging back whenever it is released on a new format, in a new edition, or because it has been discounted for arcane retail reasons.
Dead Ringer and Bad For Good
In 1979, Meat Loaf, Jim Steinman and the band reconvened to record the follow-up album Bad For Good. But, inconveniently, Meat Loaf lost his voice during the proceedings. The record company convinced Steinman to continue without him, and the album was released with session vocalists. Meat Loaf's consolation prize was to fall in love and get married to studio receptionist Leslie Edmonds. Leslie's daughter - and Meat's stepdaughter - Pearl is now a backing singer for him.
Meat was angry about Steinman continuing without him on Bad For Good and Steinman, feeling guilty about doing so, gave Meat another eight songs to record his own album with in 1981. However, thanks to Steinman's pedantry this was the same year as Bad For Good was finally released. The new Meat Loaf LP was called Dead Ringer, and the title track 'Dead Ringer for Love', a duet with Cher, reached number 5 in the UK chart.
The 1980s - an Unhappy Decade
Apart from Dead Ringer, the birth of a daughter, Amanda, and the acquisition of a burgeoning film career, Meat Loaf's '80s were not a happy time. He almost got divorced, barely talked to Steinman, recorded some of his worst albums, went bankrupt and saw his own guitarist die of an overdose. In the process he left the Epic record label after the release of Midnight at the Lost and Found and a compilation entitled Hits out of Hell, and signed with Arista. He was also declared bankrupt at one point, as suspect financial management seemed to have evaporated most of his earnings.
However, his first album with Arista had looked promising. Bad Attitude had a strong title track, with guest vocals by Roger Daltrey of The Who, two Steinman contributions, a cover of 'Surf's Up' from Bad For Good and 'Nowhere Fast', previously recorded by Fire Inc. There was also a reasonable hit with 'Modern Girl'. At this point came the death of the session guitarist, discovered by Meat himself. This episode preceded the release of Blind Before I Stop, widely regarded as Meat Loaf's poorest studio album to date.
Blind Before I Stop was produced by Frank Farian, who also worked extensively with Boney M. Swamped in synthesizers, it didn't sound very much like Meat Loaf at all, and flopped almost everywhere. Arista rejected the possibility of Meat working with Steinman again, and refused to put out more than one single from the album. In order to fulfil contractual obligations, a live album was released. The rest of the decade was spent acting, touring, and losing a lot of weight on the Slim Fast Plan.
Bat II
Having spent the 1980s working with artists such as Bonnie Tyler, Fire Inc and Pandora's Box3, Jim Steinman accepted Meat Loaf's suggestion of a reconciliation, and in 1990 the duo signed a contract with Virgin. Three years later, the album Bat Out Of Hell II- Back Into Hell was released, with the single 'I'd Do Anything For Love (But I Won't Do That)' spending seven weeks at the top of the UK charts.
The album featured 11 tracks, some of which had previously been released either by Steinman himself or Pandora's Box. Steinman decided that Meat could do a better job than the previous versions. One of the original tracks was the moving ballad 'Objects In The Rear View Mirror May Appear Closer Than They Are', a song Steinman wrote as the album was being recorded. The song has three lengthy verses, dealing with a boyhood friend dying in a car crash, a boy running away from home to escape his father, and furtive adolescent fumblings in a car. It casts Meat Loaf as a melancholy middle-aged man reminiscing about his youth, and the song is in many ways uncomfortably close to home, dealing as it does with episodes uncannily similar to events in his own life.
Bat Out Of Hell II topped charts worldwide. It was at about this time that female vocalist Patti Russo joined the Neverland Express4 and Meat's daughter Pearl also started performing with them, although she didn't join permanently until a few years later.
The Nineties
After Bat Out Of Hell II, Meat released further material, toured extensively, and pursued his film career. His 1995 album, Welcome To The Neighbourhood was another big hit, despite only featuring two Steinman tracks - 'Left in The Dark' and 'Original Sin', previously recorded by Pandora's Box. Welcome To the Neighbourhood had two big hits: 'I'd Lie For You (And That's The Truth)' and 'Not A Dry Eye In The House', both written by Dianne Warren.
He appeared in Fight Club and 51st State, and released a Very Best Of... album, featuring versions of 'Home By Now - No Matter What' and 'A Kiss Is A Terrible Thing To Waste' from Jim Steinman and Andrew Lloyd Webber's musical, Whistle Down The Wind. The album also featured 'Is Nothing Sacred' by Steinman and Don Black, and 15 of his bigger hits (including only one from the Arista years). At the time of writing, Meat continues to play live on a regular basis, and his two-and-a-half hour live show tends to feature a lot of very sweaty, over the top, pompous rock 'n' roll, some incredibly long guitar solos, guest spots from individual members of the Neverland Express and a 20-minute long version of 'Paradise By The Dashboard Light'.
Couldn't Have Said It Better
In April 2003, Meat Loaf released a new album, Couldn't Have Said It Better5, his first studio album for eight years and the first since Blind Before I Stop not to feature any songs written by Steinman, although the list of songwriters did include Nikki Sixx from Motley Crue, Kevin Griffin from Better than Ezra, Diane Warren and Bob Dylan. Some of the songs had been premiered on his 2002 Summer Tour
Meat Loaf at the Movies
As we have seen, Meat Loaf has combined a successful acting career with his remarkable rock exploits. For information on more Meat Loaf films, go to his page on the Internet movie database
Album Discography
Stoney and Meat Loaf (1971, Rare Earth)
The Rocky Horror Picture Show (1975)
Free For All (1976) - features Meat Loaf on vocals.
Bat Out Of Hell (1977, Epic)
Dead Ringer (1981, Epic)
Midnight at the Lost and Found (1983, Epic)
Bad Attitude (1984, Arista)
Blind Before I Stop (1986, Arista)
Bat Out Of Hell II: Back Into Hell (1993, Virgin)
Welcome To The Neighbourhood (1995, Virgin)
Couldn't Have Said It Better (Mercury, 2003)
Compilation Albums
There have been plenty of Meat Loaf compilation albums over the years, many of which feature three familiar songs backed up with numerous forgettable B-sides. Songs from the Arista albums tend to get used most on budget offerings. However, there are some quality collections, most notably: Hits Out Of Hell, Meat Loaf and Friends and The Very Best Of Meat Loaf(1998, Virgin).
Live Albums
In addition to all the numerous studio and compilation albums, several live albums have also been released. The two most significant being Live at Wembley (1987, Arista), the contractual obligation album with Arista, and the excellent Live Around The World (1996, Tommy Boy).
Videos
A number of Meat Loaf videos have been released, the most notable ones being Hits Out Of Hell which comprises the videos to a few hits from the Epic label days and Meat Loaf Live, which is taken from the same show as the Live At Wembley, but features a different track listing.
Bat Out Of Hell II: Picture Show, was released a while after the corresponding album and features a mixture of videos, live performances and interviews, along with recording studio footage. Also, Classic Albums: Bat Out Of Hell, is the video release of an ITV documentary about the album, and includes interviews with Meat, Steinman, Todd Rundgren and others, and some concert footage.
Links
1Some people prefer to call him Meatloaf, but he will be referred to here as Meat Loaf.
2Neverland still hasn't got past the workshop stage, nearly 30 years later.
3Pandora's Box were an all-female vocal group whom Steinman managed, wrote, produced, and played Piano for. One member was Ellen Foley (female vocalist on the Bat Out Of Hell album)
4Although she is not the vocalist on 'I'd Do Anything For Love' - that's the enigmatically-named 'Mrs Loud'.
5The album was originally intended to be called Funhouse before being retitled Testify, although that name was also dropped as Phil Collins has just released an album of the same name.