Finnish/German/English Phrase Guide
Created | Updated Jan 28, 2002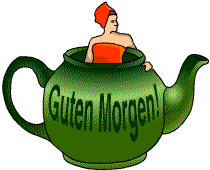 Here are some words and phrases that you might need when you go to Finland or talk to Finns. Have fun with this beautiful language!
Finnish Phrases
English
German
Finnish
Yes
Ja
Kyllä
Joo
No
Nein
Ei
Hello!
Hallo!
Terve!
Moi!
Moikka!
Hei!
Bye!
Tschüss!
Heippä!
Hei, Hei!
Moi, Moi!
Good day!
Guten Tag!
Hyvää päivää!
Good morning!
Guten Morgen!
Hyvää huomenta!
Good evening!
Guten Abend!
Hyvää iltaa!
Goodbye!
Auf Wiedersehen!
Näkemiin!
Welcome!
Wilkommen!
Tervetuloa!
Yes please!
Ja bitte!
Kyllä kiitos!
No thanks!
Nein Danke!
Ei kiitos!
Thank you very much.
Vielen Dank
Kiitos paljon
Paljon kiitoksia
How are you?
Wie geht's?
Mitä kuuluu?
Good thanks.
Danke, gut.
Kiitos, hyvää.
Bad thanks.
Danke, schlecht.
Kiitos, huonoa.
Sorry!
Entschuldigung!
Anteeksi!
I'm sorry!
Es tut mir leid!
Olen pahoillani!
It's alright!
Macht nichts!
Ei se mitään!
Everything alright?
Alles in Ordnung?
Kaikki hyvin?
I don't know.
Ich weiß nicht.
En tiedä.
Can you help me?
Kannst du mir helfen?
Voisitko auttaa?
Do you have...?
Hast du...?
Onko sinulla...?
I'm looking for...
Ich suche...
Etsin...
I want...
Ich möchte...
Tahtoisin...
I want to go to...
Ich möchte nach ... gehen
Tahtoisin mennä...
Where is...?
Wo ist...?
Missä on...?
How do I get to...?
Wie komme ich nach...?
Kuinka pääsen...?
How much is...?
Wieviel kostet...?
Paljonko maksaa...?
Where can I buy...?
Wo kann ich ... kaufen?
Mistä voin ostaa...?
I need help!
Ich brauche Hilfe!
Tarvitsen apua!
I speak only a little Finnish.
Ich spreche nur wenig Finnisch.
Puhun vain vähän suomea.
Do you understand?
Verstehst du?
Ymmärrätkö?
I don't understand.
Ich verstehe nicht.
En ymmärrä.
Sorry what?
Wie bitte?
Anteeksi kuinka?
Can you speak slower?
Kannst du langsamer sprechen?
Voitko puhua hitaammin?
What's that in Finnish?
Was heißt das auf finnisch?
Mitä se on suomeksi?
Do you speak English?
Sprichst du Englisch?
Puhutko englantia?
Do you speak German?
Sprichst du Deutsch?
Puhutko saksaa?
What's your name?
Wie heißt du?
Mikä sinun nimesi on?
I am...
Ich Ich bin...
Minä olen...
Where are you from?
Woher kommst du?
Mistä sinä olet?
I am from...
Ich komme aus...
Tulen ...sta
Where do you live?
Wo wohnst du?
Missä sinä asut?
I live in...
Ich wohne in...
Asun ...ssa
...ssä
Where do you go?
Wo gehst du hin?
Mihin sinä menet?
I go to...
Ich gehe nach...
Menen ...lle
Of course!
Natürlich!
Tietenkin!
Shut up!
Sei still!
Suu tukkoon!
Stop it!
Hör auf!
Älä viitsi!
That's enough!
Jetzt reicht's!
Nyt riittää!
Can I have your phone number?
Kann ich deine Telefonnummer haben?
Saanko puhelinnumerosi?
I like you.
Ich mag dich.
Minä pidän sinusta.
I love you.
Ich liebe dich.
Minä rakastan sinua.
Cheers!
Prost!
Kippis!
One beer please!
Ein Bier bitte!
Yksi olut, kiitos!
What's the time?
Wie spät ist es?
Mitä kello on?
Can you show me the way to the railway station?
Kannst du mir den Weg zum Bahnhof zeigen?
Voitko neuvoa minulle tien rautatieasemalla?
It's nice weather isn't it?
Schönes Wetter, nicht?
Eikö olekin kaunis ilma?


Nouns
| English | German | Finnish |   | English | German | Finnish |
| --- | --- | --- | --- | --- | --- | --- |
| air, weather | Luft, Wetter | ilma |   | Hunger | hunger | nälkä |
| airport | Flughafen | lentoasema |   | hut | Hütte | mökki |
| bar, pub, café | Kneipe, Café | baari |   | icecream | (Speise)eis | jäätelö |
| bay | Bucht | lahti |   | island | Insel | saari |
| beach | Strand | ranta |   | kitchen | Küche | keittiö |
| bed | Bett | sänky |   | lake | See | järvi |
| beer | Bier | olut |   | Land | land | maa |
| berry | Beere | marja |   | Lapland | Lappland | Lappi |
| bike | Fahrrad | pyörä |   | man | Mann | mies |
| bill | Rechnung | lasku |   | market | Markt | tori |
| book | Buch | kirja |   | meat | Fleisch | liha |
| bottle | Flasche | pullo |   | milk | Milch | maito |
| boy | Junge | poika |   | money | Geld | raha |
| bread | Brot | leipä |   | month | Monat | kuukausi |
| breakfast | Frühstück | aamiainen |   | moose | Elch | hirvi |
| bridge | Brücke | silta |   | morning | Morgen | aamu |
| café | Café | kahvilla |   | mother | Mutter | äiti |
| cake | Kuchen | kakku |   | mountain | Berg | vuori |
| car | Auto | auto |   | name | Name | nimi |
| castle | Burg | linna |   | newspaper | Zeitung | sanomalehti |
| cat | Katze | kissa |   | night | Nacht | yö |
| centre | Zentrum | keskus, keskusta |   | pants | Hose | housut |
| child | Kind | lapsi |   | phone | Telefon | puhelin |
| church | Kirche | kirkko |   | phone number | Telefonnummer | puhelinnumero |
| clock, bell | Uhr, Glocke | kello |   | piece | Stück | pala |
| coffee | Kaffee | kahvi |   | radio | Radio | radio |
| day | Tag | päivä |   | reindeer | Rentier | poro |
| deer | Hirsch | saksanhirvi |   | restaurant | Restaurant | ravintola |
| doctor | Arzt | lääkäri |   | river | Fluß | joki |
| dog | Hund | koira |   | room | Zimmer | huone |
| dwelling | Wohnung | asunto |   | sauna | Sauna | sauna |
| ear | Ohr | korva |   | sauna steam | Saunadampf | löyly |
| electricity | Elektrizität | sähkö |   | sea | Meer | meri |
| eye | Auge | silmä |   | shoe | Schuh | kenkä |
| fairy tale | Märchen | satu |   | shop | Geschäft | kauppa |
| family | Familie | perhe |   | stream | Strom | virta |
| father | Vater | isä |   | street | Straße | katu |
| Finland | Finnland | Suomi |   | table | Tisch | pöytä |
| fish | Fisch | kala |   | thirst | Durst | jano |
| floor | Boden | lattia |   | toilet | Toilette | vessa |
| flower | Blume | kukka |   | town | Stadt | kaupunki |
| foot | Fuß | jalka |   | track | Gleis | laituri |
| forest | Wald | metsä |   | train | Zug | juna |
| friend | Freund | ystävä |   | tree, wood | Baum, Holz | puu |
| fruit | Frucht, Obst | hedelmä |   | TV | Fernsehen | televisio |
| girl | Mädchen | tyttö |   | village | Dorf | kylä |
| glass | Glas | lasi |   | water | Wasser | vesi |
| hair | Haar | hius |   | waterfall, rapids | Wasserfaall, Stromschnelle | koski |
| hand | Hand | käsi |   | weather | Wetter | sää |
| happiness | Glück | onni |   | window | Fenster | ikkuna |
| high rise | Hochhaus | kerrostalo |   | woman | Frau | nainen |
| home | Heim, zu Hause | koti |   | work | Arbeit | työ |
| hotel | Hotel | hotelli |   | yard | Hof | piha |
| house | Haus | talo |   | year | Jahr | vuosi |
Verbs
| English | German | Finnish |   | English | German | Finnish |
| --- | --- | --- | --- | --- | --- | --- |
| to answer | antworten | vastata |   | to hear | hören | kuulla |
| to arrive | ankommen | saapua |   | to like | mögen | pitää |
| to be | sein | olla |   | to love | lieben | rakastaa |
| to be able to do sth. | können | voida |   | to meet | treffen | tavata |
| to begin | anfangen | alkaa |   | to open | öffnen | avata |
| to bring | bringen | viedä |   | to play | spielen | leikkiä, pelata, soittaa |
| to buy | kaufen | ostaa |   | to press | drücken | työntää, painaa |
| to call | anrufen | soittaa |   | to pull | ziehen | vetää |
| to choose | aussuchen | valita |   | to say | sagen | sanoa |
| to come | kommen | tulla |   | to see | sehen | nähdä |
| to cost, to pay | kosten, bezahlen | maksaa |   | to sing | singen | laulaa |
| to do | machen | tehdä |   | to sleep | schlafen | nukkua |
| to drink | trinken | juoda |   | to speak | sprechen | puhua |
| to eat | essen | syödä |   | to take | nehmen | ottaa |
| to find | finden | löytää |   | to think | denken | ajatella |
| to get | bekommen | saada |   | to wait | warten | odottaa |
| to go | gehen | mennä |   | to want | wollen | tahtoa, haluta |
| to go, leave | gehen, weggehen | lähteä |   | to wash | waschen | pestä |
| to hate | hassen | vihata |   | to watch, to look | zusehen, gucken | katsoa |
Adjectives
| English | German | Finnish |   | English | German | Finnish |
| --- | --- | --- | --- | --- | --- | --- |
| bad | schlecht | huono |   | little | wenig | vähän |
| beautiful | schön | kaunis |   | long | lang | pitkä |
| big | groß | suuri, iso |   | much | viel | paljon |
| cheap | billig | halpa |   | new | neu | uusi |
| clever | klug | viisas |   | nice, funny | nett, lustig | hauska |
| expensive | teuer | kallis |   | old | alt | vanha |
| fast | schnell | nopea |   | healthy | gesund | terve |
| strange | fremd | vieras |   | short | kurz | lyhyt |
| fresh | frisch | tuore |   | slow | langsam | hidas |
| good | gut | hyvä |   | small | klein | pieni |
| hard | hart | kova |   | ugly | häßlich | ruma |
| heavy | schwer | painava |   | warm | warm | lämmin |
| hot | heiß | kuuma |   | whole | ganz | koko |
| ill | krank | sairas |   | young | jung | nuori |
Personal Pronouns
English
German
Finnish
 
English
German
Finnish
I
ich
minä
 
we
wir
me
you
Du
sinä
 
you
ihr
te
he
she, it
er
sie, es
hän / se
 
they
sie
he
Demonstrative Pronouns
English
German
Finnish
 
English
German
Finnish
this
dieser, diese, dieses
tämä
 
these
diese
nämä
that
der
die
das da
tuo
 
those
die da
nuo
it, that
das, es
se
 
those
die, jene
ne
Prepositions
| English | German | Finnish |   | English | German | Finnish |
| --- | --- | --- | --- | --- | --- | --- |
| before | vor | ennen |   | without | ohne | ilman |
Postpositions
| English | German | Finnish |   | English | German | Finnish |
| --- | --- | --- | --- | --- | --- | --- |
| after | danach | jälkeen |   | inside | innen | sisällä |
| along | entlang | pitkin |   | near, close | nah | lähellä |
| at | bei | luona |   | through | durch | poikki |
| behind | hinter | takana |   | through, via | über, via | kautta |
| beside | neben | vieressä |   | under | unter | alla |
| between | zwischen | välissä |   | while | während | aikana |
| in front of | vor | edessä |   | with | mit | kanssa |
Conjunctions
| English | German | Finnish |   | English | German | Finnish |
| --- | --- | --- | --- | --- | --- | --- |
| and | und | ja |   | or | oder | tai, vai |
| because | weil | koska |   | so | so, also | siis |
| but | aber | mutta |   | so that | damit | jotta |
| if | falls | jos |   | that | dass | että |
| like, as | wie, als | kuin |   | when | wenn | kun |
Colours
| English | German | Finnish |   | English | German | Finnish |
| --- | --- | --- | --- | --- | --- | --- |
| black | schwarz | musta |   | green | grün | vihreä |
| blue | blau | sininen |   | red | rot | punainen |
| brown | braun | ruskea |   | white | weiß | valkoinen |
| grey | grau | harmaa |   | yellow | gelb | keltainen |
Days of the Week
English
German
Finnish
 
English
German
Finnish
Monday
Montag
maanantai
 
Tuesday
Dienstag
tiistai
Wednesday
Mittwoch
keskiviikko
 
Thursday
Donnerstag
torstai
Friday
Freitag
perjantai
 
Saturday
Samstag
lauantai
Sunday
Sonntag
sunnuntai
Months
| English | German | Finnish |   | English | German | Finnish |
| --- | --- | --- | --- | --- | --- | --- |
| January | Januar | tammikuu |   | February | Februar | helmikuu |
| March | März | maaliskuu |   | April | April | huhtikuu |
| May | Mai | toukokuu |   | June | Juni | kesäkuu |
| July | Juli | heinäkuu |   | August | August | elokuu |
| September | September | syyskuu |   | October | Oktober | lokakuu |
| November | November | marraskuu |   | December | Dezember | joulukuu |
Seasons
| English | German | Finnish |   | English | German | Finnish |
| --- | --- | --- | --- | --- | --- | --- |
| spring | Frühling | kevät |   | summer | Sommer | kesä |
| autumn | Herbst | syksy |   | winter | Winter | talvi |