Unassisted Triple Plays in Baseball
Created | Updated Jun 16, 2008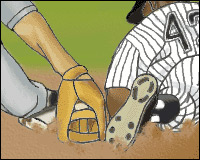 One of the rarest things in baseball is the Unassisted Triple Play. In fact, through the entire history of Major League baseball, it has only been done 15 times. The 15 people who have done unassisted triple plays have hardly done them purely by talent. Doing such a play requires luck more than skill. The circumstances, the ignorance of a baserunner and the hit have to be just right for the play to occur.
An Unassisted Triple Play means that one player (almost always an infielder1 - an unassisted triple play by an outfielder is not impossible, as Paul Hines proved, but it was very difficult) gets three players out from the time the batter hits the ball to the time all the baserunners are out or on a base (a play). The play goes almost the same way every time. It invariably starts when the batter hits the ball and a fielder catches it, making the hitter out. The fielder can touch a base to retire a runner that ran for the next base too soon. Finally, if a player runs to the base the fielder is at, he can tag him in-between bases before he gets back to base. After this, there are three outs and the inning ends. There can be a switch in the order of the ways the second and third outs are made though. Each one is unique though, and there are dozens of variables for how an Unassisted Triple Play can be carried out.
Of the 15 people who have made an Unassisted Triple Play, nine were National Leaguers and six were American Leaguers.
The first recorded Unassisted Triple Play was achieved by Providence Outfielder Paul Hines on 8 May, 1878 against Boston. This is largely unrecorded, but it was an Unassisted Triple Play - and a spectatular one too. Hines was known to make great catches, and on that day a ball was hit to left field where no one thought Hines could catch it, so the runners went ahead and ran. Hines did catch it, and by now both of the runners were past third base. Hines ran to third base and stepped on it, which (by the rules of that time) made the two baserunners out.

The first person to make an Unassisted Triple Play in the modern Major Leagues was shortstop Neal Ball of the Cleveland Indians on July 19, 1909. Cleveland were playing a doubleheader with Boston and in the first game's second inning, Ball caught a fly ball from hitter Amby McConnell, forced an out on second base on runner Heinie Wagner and tagged a baserunner Jake Stahl coming in from first base.

The second Unassisted Triple Play by Bill Wambsganss on October 10, 1920, was eerily similar to the first one. Once again, it was by a Cleveland infielder (though this time a second baseman) who caught a ball, forced an out at second and tagged a baserunner from first base. This time, however, the game was in the World Series - the fifth inning of the fifth game with the Brooklyn Dodgers.

First baseman George Burns accomplished the feat on 14 September, 1923 for the Boston Red Sox - this time in a game against Cleveland. In the second inning, Burns caught a ball from Frank Brower, forced Walt Lutzke on first base and remarkably ran to second base - getting there before Riggs Stephenson (who had departed from second) could get back.

Boston Braves Short Stop Ernie Padgett became the first American Leaguer to make a Triple Play by himself on 6 October, 1923 - only a few months after Burns made his. In the fourth inning of the latter game in a double header with Philadelphia, Padgett caught a fly ball from Walter Holke and forced out Cotton Tierney on second base then chased down Cliff Lee and tagged him before he could make his way back to first.

Pittsburgh Shortstop Glenn Wright accomplished an Unassisted Triple Play at the last possible moment in a 7 May, 1925 game against the St Louis Cardinals. In the ninth innning, Wright caught a line drive from the batter Jim Bottomley, stepped onto second base to force off Jimmy Cooney and chased down legendary second baseman Rogers Hornsby for the third out and the end of the game.

Chicago shortstop Jimmy Cooney made his three outs on 30 May, 1927 in a game against Pittsburgh. He caught Paul Waner's hit, forced an out at second and tagged Clyde Barnhart coming into second from first base.

Just the day after Cooney made his Triple Play, on 31 May, 1927 Detroit first baseman Johnny Neun made his Triple Play against Cleveland. He took Homer Summa's fly ball, tagged out Charlie Jamieson and made it in second in time to force out Glenn Myatt.

After more than 40 years without a Triple Play, Washington Shortstop Ron Hansen accomplished it on 30 July, 1968 in a game against Cleveland2. He got Joe Azcue's hit, stepped on second base - which took off Dave Nelson - and tagged Russ Snyder in-between first and second base.

On 20 September, 1992 Philadelphia second baseman Mickey Morandini caught Jeff King's line drive, forced an out on second and tagged Barry Bonds who was coming around from first base.

John Valentin, a Boston shortstop, made his Triple Play on July 8, 1994 in the sixth inning of a game against Seattle. He caught Marc Newfield's hit, stepped on second and tagged Keith Mitchell coming from first base.

Oakland second baseman Randy Velarde took his three outs on 29 May, 2000 against New York. He caught Shane Spencer's hit, tagged a baserunner in-between first base and second base and stepped onto second before a departed runner could return.

On 10 August, 2003 Rafael Furcal of the Atlanta Braves made a Triple Play against St Louis. Furcal caught Woody Williams' hit, stepped on second and tagged a man between first and second.

On 29 April, 2007 Colorado Rockies shortstop Troy Tulowitzki caught a line drive by Chipper Jones, then forced an out at second base and tagged a runner on his way back to first. Then, for some reason, he tagged second again and threw the ball to first base.

Asdrúbal Cabrera of the Cleveland Indians made a triple play on 12 May, 2008 in the fifth inning. He picked off a line drive by Lyle Overbay, then stepped across second base and tagged a runner.
1Usually a short stop. Eight of the 15 Unassisted Triple Plays have been by short stops, four by a second baseman, two by a first baseman and one by an outfielder.
2After this game, the Cleveland team in its many forms had witnessed five Triple Plays - many more than any other baseball team.