Sporting With Egon
Created | Updated Mar 19, 2004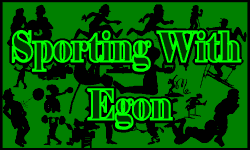 The cricket world cup is covered elsewhere in this week's Post, but here's some other sporting news:
Football: ENGLAND 1 AUSTRALIA 3
Last Wednesday, the English and Australian football teams played a friendly match at Upton park, home of relegation threatened West Ham United. England manager Sven Goran Eriksson decided in advance that in the first half he would play his best side, while in the second half he would play a side made up entirely of players aged under 26. The outcome: The first team got beat 2-0 while the youngsters drew 1-1.
Not one of the first-half players emerges with any credit - the defence in particular were dreadful. In the second half, Everton's Wayne Rooney, at 17 England's youngest international, looked at home, Arsenal's Franny Jeffers got a goal and Newcastle midfielder Jermaine Jenas, 19, put in a fantastic performance to put himself in real contention for a place in Eriksson's starting line-up.
The fact that England's young players did better than the first team really is quite embarassing, as is the fact that the Australians outclassed England in one of the few sports we English still considered ourselves to be superior to our Antipodean rivals at.
Nick Duncombe, RIP
The English Rugby Union team beat France at the weekend, largely due to Jonny Wilkinson's left boot, but the occasion was overshadowed by the tragic news that 21-year-old Harlequins and England scrum-half Nick Duncombe had died of cardiac and respiratory failure caused by the extremely rare virus sepsis. Duncombe was England's youngest ever scrum-half. I would write an obituary of Duncombe, but unfortunately I don't know enough about him, but I feel it would be appropriate to quote his club and country team-mate Jason Leonard about the tragedy:
'I am still in shock - it is unbelievable even now', Leonard said. 'It was very hard and puts everything into perspective really. Everyone in the squad was taken aback. Someone said that some stars burn twice as brightly but sometimes only half as long, and that was Nick. He was such a lovely person. All the players were choked but we knew we had to play against France. It was important to play, but I don't think Nick has been out of my thoughts since I heard the news.'
Thankfully, the minute's silence before the England-France game was impeccably observed. England's victory was good news, but the all-too-tragic news received earlier really put into context how little sport matters in the grand scheme of things.
FERGIE BLOWS HIS TOP
The English FA Cup Fifth Round match between Arsenal and Manchester United ended, gloriously in the eyes of those of his with a sadistic love of United defeats, in a victory for a weakened Arsenal team over a full strength Man United team. It obviously had an effect on United Manager Sir Alex Feguson, who, after the game, kicked a football boot which narrowly missed England captain David Beckham's eye. The match was good, despite the disgraceful tackling of Ruud van Nistelrooy in the opening minutes, and Arsenal dominated, although if it hadn't been for dreadful finishing from Ryan Giggs the game may have been closer.
Arsenal play Chelsea at home in the quarter finals. The other games see Watford, who conquered Sunderland (in a game I attended) thanks to a ludicrously retaken penalty by Tommy Smith, at home to the winners of the Burnley v Fulham replay. Southampton host Wolves, and Sheffield United, semi-finalists in the League Cup, are at home to Leeds in a Yorkshire derby which is a repeat of a League Cup game.
ANYTHING ELS?
It has been brought to my attention by Master B that South African golfer Ernie Els has won four of his first five tournaments of 2003 with a truly stupendous 29 under par for the four rounds of the Johhnie Walker Classic 1, which he won by ten shots. Els is apparently in some of the best form of his career, so watch out for him in the majors is my suggestion.
DAVIS CUP TENNIS
Great Britain got mauled by Australia in the Davis Cup. In the absence of Tim Henman and Greg Rusedski, teenager Alex Bogdanovic got beaten by world number one Lleyton Hewitt and Mark Philipoussis destroyed Alan Mackin. Hewitt then teamed up with Todd Woodbridge, one of the greatest doubles players of all time, to beat Arvind Parmar and Miles MacLagan in the doubles to ensure Aussie victory. Hewitt was pulled out of the reverse singles after being spotted at 4am drunk in a hotel corridor, so it was left to Wayne Arthurs to beat MacLagan, and Phillipoussis reportedly stormed out of the stadium only minutes before he was due to play Bogdanovic, meaning that Woodbridge had to play his first singles game in over a year, and he was defeated by Bogdanovic as a little consolation for Britain, the final score a hefty 4-1 to the Antipodeans.
Egon
1Which is apparently sponsored by the whisky, not the Radio 2 DJ.