Missing... Presumed?
Created | Updated Feb 21, 2005
DUCKNAPPED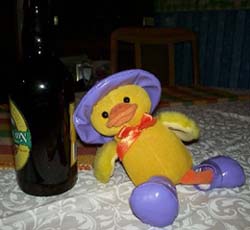 NAME: Zak the Duck

AGE: 21 duck years

HEIGHT: approx 30cm

APPEARANCE: Cute and yellow

LAST KNOWN ATTIRE: Purple rainhat and matching bootees, an orange bow and a black badge with the caption "BADGE" in yellow type.

Zak the Duck, respected h2g2 researcher, meetup mascot, friend to all and reincarnation of Venitian eroticist Casanova1 was abducted by assailants unknown from the basement bar of the Penderel's Oak, High Holborn, London, during the festivities of the h2g2 Winter Meet on the night of Saturday January 25, 2003.
As of yet, no eyewitnesses have come forward with any information regarding the whereabouts of Zak or with a description of the alleged ducknapper. If you have any information of Zak's location or any details that can aid the arrest of the individual(s) who commited this atrocity please leave your details in the forums below.
Newsflash: The kidnapper appears!
1Several h2g2 researchers know the validity of this claim first hand, but shall remain nameless to protect their identities.