Random Quotes Guild-Lurking Where All Fine Quotes are Quoted
Created | Updated Oct 24, 2011

Brought to you by two fine members of the h2g2 community

(Who are, unfortunately, not pictured here.)
Are you a fan of modern art? Of Architecture? Of the Renaissance Age? If so, then this is not the place for you. If, however, you are a fan of wreaking havok amongst your peers by spreading random quotes wherever you travel, then this IS the place for you!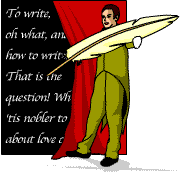 Random Quotes Guild (or RQG, if you're a fan of acronyms) was founded by the masters of random quotes, Chauncey

and Katie (More commonly known as Darth Zaphod

)
So, what is this Random Quotes Guild you speak of?
The object of the Random Quotes Guild is simple--Every place you visit (or just a few, if you like) you must leave a quote--anything you want. Shakespeare, Isaac Asimov, Douglas Adams, or even your own. Be creative--If you're bored, pick a random person's home site and leave them a quote! Be sure to tell them to pass on the random quote to some other person/place!
You know, an example scenario would really be of assistance...
What? An example scenario you say? Gladly!
(Darth Zaphod visits the home page of Chauncey)

"Oooh, oh my, I'm on the home page of Chauncey! Why, and I'm also a member of the Random Quotes Guild! By golly, I think I'll leave Chauncey a random quote!"

(Darth Zaphod ventures to the "Discuss this entry" button on Chauncey's home page)

"Hmmm...what random quote should I leave today?

(Darth leaves her random quote)

"An apple a day keeps the doctor away!" -Unknown Author"

(Darth is now pleased with herself, for she has passed on the deed of leaving a Random Quote wherever she may visit.)
See how easy that is?



Now you go try it!
Oh, NOW I'm intrigued! Quick, how do I join?!
Well...if you MUST know...Just leave a message at the bottom of this page with your name and a random quote! That's it!



Unfortunately, I had to get rid of the *actual* list of members (versus this drop-down menu) Due to the number of people joining
So the site looks rather small compared to before...So I'm going to add some random filler to compensate:) *ahem*
*RANDOM FILLER*
*RANDOM FILLER*
*RANDOM FILLER*
*sigh* ok, I think I'm done, so HERE'S our list of nifty members:)


Random Quotes Guild's super-special membersDarth Zaphod (Founder)Chauncey (Co-Founder)Aragorn, a.k.a. Ralph the Wonder Llama The Big Bananalemonfish ~jwf~ Emee Math Atari Psychocandy Terran Juno NewImprovedTefkat Turvy the Cat Bored Laura Tubaman Paulie Abbi Normal Several a.k.a. Random (You will be missed!)Batty Poke It With A Stick KirpHypatia Neugen Honorary God Raymond the Curmudgeon b9nr515 Jodan Skullock Encybass Slarti-Babs Viojen Becca The_Jon_m Yankee-Shoes rgeG Yanichka Woman at Ears Cati Bach Mr-CEO Draven Mister Rainbow Lou OUR 42ND MEMBER!!Sputnik Catwoman Raukodraug McMillian Xen Snazoo Hathornefer The Infinite God EmperorPrincess Loz STARBURST The Snockerty Friddle Alison Mudhooks Pedboy MUSTANG-SALLY Rosi Dancinglady bob3559 CoLdShIvA The Great Ant Back Ache Darkmirror Tu Gifalis 0 Joe C. NuclearConfusion Beatles Researcher 234820 Tanzen Rhubarb Mystic Martin PoppieVK Cello Cello Cello Silunaka Super Bufanda DrSoloMan EZ Gaia Forest Walker AK nonexistent Cream-T Wonko the Insane Mango rcurls .M.c.B Stoney Advocatus Diaboli Uncle Ghengis Skank Monkey Apathyerror Haikeeba Marvin Marvin the Paranoid Android Andrew TheDirtyVicar Cinnamon Spider Lamppost of the Babblefishes AXRLugwormXPhileEmmaDr. UnscrupulousFrankboothHiroshiSquidgyB4Hussassan the Silicon SamuraiDragonjuiceCaptain KebabChrisTaylor OUR 100TH MEMBER!!!!!!WowbaggerNoSuchMethodHellboundforjoySquashemQnaalorYvonneLentillaSneaky(crazyhorse)LugwormOrionHappyDudeThe SarkiePhogbound007Cat-EyesOne Large Sperm WhaleOrchidgirlFllrbnyLuthienaLizzbettBertie WoosterSato the EnlightenedOblongomacultusGodBenJimi XTarastNorthern RebellionCrazyowlWILD BIRIYANIFoolish MortalCloudytealeafChihuahua88MiztresThe RandomizerTurjid ShamenYeek NarfJoe FishUncle BobWoodenbadgerJoe FishBig ALLeonard Quirm OUR 142nd MEMBER!!EroskissMotherpenguinCommander EvilClawSupermooCommander Dracofootbacon>Claudius123Chronoloony42motherpenguinsane rain meanders onoracle428NextonGuitar NinjaEsty and CorenT.B. FalsenameFraggleSupremeEarthwormLeoAlphaRandom DNAMadman42qHuskerAnonymousHarpoNotMarxGuardianShrek7Scorpio_WitchMad BoffinPsychetooSpeffSmall furry creature from alpha centuriEdward the Bonobowondernorthstartoowoohoovoocali_gal42AlexAshmanThe One They Call the PondererroyalleothelionMadam Conespynxxx1CompromisedSanityPippin the HobbitSzwagierEonBlueApocolypseKiolok Destroyer of WorldsSpittlecanCaffienatedMonkeyChangelingKerisuMysteriousOneWoSvoonmaynarddjagoKim dealColin FryerHaustrianRikAFGNCAAPTheRainGodSigsfriedFifty-four OUR 200th MEMBER!!Flat-bajaarrietty42ijustisVortexRune_SpiritDoctor08GaliganwarrenvanrensburgBoozeban_king_mobPinkwrathbaldeagle072atkinssiNavigatorblackrunner855spoogleflopdrmegabiteJudicator Anoleragabash13writer_babe_42LiquoriceSunTRiGElwynIctoanThe One They Call the Ponderer of the Ultimate QuestionEddieWilma Neanderthalblmgmagic-sophieDoctor08miraculousrandomnessKodamaNick_EmRigwoodie_WaldgraveDr. MegabiteGarfman314Mellow-Deesteve-paulStephengingersnapperplastickrockchickDr. Harley Quinn - OUR 242nd MEMBER!!!!!EmmilyCapt. Jack HarknessInvincibledriverThe ApprenticeDaizzyHarponotmarxTimberlandTigersGrumpyAlembicLucky Llareggubgideon666faithy2Josh_Master_of_the_Staff_of_Magicair jnrCrystalblossommad-hatterLady Distainflicky1991kipperonthefloorBurgerRoyleighmfluffykerfuffleMediocredaneShagbark


Refer back to this site as much as possible! With enough followers, we can RULE h2g2! We can RULE the internet! WE CAN RULE THE WORLD!
....

no? ok...maybe not. But let's try anyway