The Post Christmas Poetry Competition 2002
Created | Updated Dec 11, 2002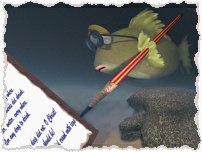 THE POST

Christmas

Poetry Competition 2002

Well that's it folks, all the Christmas Poetry Entries are now in, and it's up to you to vote for which one you think is the best. The final entrant can be viewed below and all the entries for this years competition can be found HERE.
There's a slight problem with today's entrant, in that they didn't provide their h2g2 researcher name and number with the poem. If you wrote the poem then please let me know who you are.
The winner will be announced next week, good luck to all entrants.
THE RULES
Voting will start today (Thursday 12th December 2002) and finish on Tuesday 17th December 2002.
Only one vote per researcher will be accepted, and you cannot vote for your own work.
If there is a tied vote, then the Post will cast the deciding vote.
The winning entry will be announced in the Christmas Edition of The Post, on Thursday 19th December 2002




This Week Entrant
CHRIST IS BORN!

...And the desert rejoiced and blossomed

And the birds of the air

And the beast of the fields

And all the tribes

And all the nations of the Earth

And all the heavens

And the Heaven

Rejoiced;


'Christ is born!'

'The prince of peace is born!'

'Thus,

Salvation

Freedom, and

Peace we've found

As the harp emitted serene

Angelic rhythms

To which the people waltzed, merried

As they rejoiced for the birth.


'Christ is born!'


'Our saviour is born!'
Unknown




Greebs