An Expedition to the Wilds of the Rugby World
Created | Updated Feb 18, 2003
Petersham RUFC 2002 tour to Cambodia, Laos and Vietnam.
Day 1 - Saigon 19/9/02
After two years of planning, pleading, last minute mishaps, late drop outs, visa problems and delays with our tour gear arriving, the time had finally come for fifteen hardy souls from the Petersham Rugby Union Club from Sydney, Australia, led by yours truly, to depart for one of the less travelled paths in the rugby world. To whit: Cambodia, Laos and Vietnam.
Truth be known we were a motley collection, ranging in age from early twenties to mid fifties, with various levels of rugby ability, fitness and desire. We were also very thirsty, which was just as well, as it turned out.
I wasn't sure what to expect at the airport, given that I had received word only yesterday that our plane was leaving an hour earlier than the time shown on the itinerary. I ended up being one of the last to arrive, courtesy of an unexpected 1 hour wait for a taxi.
The group check-in area was in absolute chaos, but we eventually succeeded in organising ourselves in the regulation airline approved manner. Unfortunately, one of our party (namely Joburg) had still not arrived, which held things up somewhat but we eventually managed to get checked in.
Whilst waiting for boarding we went over some basic tour rules such as: not going off by yourself at night, when official tour gear was to be worn, using condoms, the cone of silence (what goes on tour stays on tour!) and presented the youngest touring member, Vinnie, with the tour mascot, Ian the rubber chicken, for safe keeping. After passing through customs, taking care of any last minute shopping, currency exchanging, etc we boarded Vietnam Airlines flight VN782 bound for Saigon.
International flights, especially from Australia, tend to be long and tiresome affairs. We had been strategically placed right down the very back of the plane, which at least had the advantage of being near the toilets and the kitchen (read bar). We could also clearly hear whether the engines were working correctly or not. After flicking through the in-flight magazine, some soft porn mags and giving up on the movie ever being shown those members of the team not sleeping quickly settled in to the time-honoured rugby tradition of helping lighten the cargo load by drinking as much beer as possible.
We carried out this plan with such efficiency that by mid afternoon we were advised that we wouldn't be able to have any more beer 'so there is some left for us to serve to the other passengers with dinner'. Apparently it was okay for us to drink spirits, this decision no doubt helped by the sacrificing of the aforementioned soft porn magazines to the male cabin crew. The female crew, for some reason, seemed to be very busy somewhere a lot closer to the front of the plane.
After about 10 hours of flying we eventually landed safely in Saigon and prepared to face passport control in a Communist country. I was quite impressed that we were all allowed through, with minimal fuss, apart from one member of the squad (Joburg again) who had his visas stamped in a nearly expired passport (you need more than 6 months to get into most countries), and had a second new passport for passing through border control.
I collected my bags and joined a queue for customs clearance. The couple in front of me discovered whilst at the customs check-in that they had taken someone else's bag by mistake. Unfortunately this did not set great alarm bells ringing in my mind. A fact that I would much regret as, of course, it belonged to one of us (Joburg once again, no less. Did I mention he was the only person not wearing correct tour attire).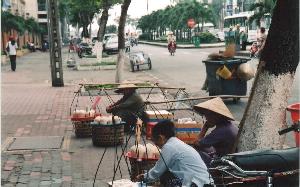 Eventually the missing bag was located and we set off into the cycle rich traffic for our hotel. En route we were advised that our hotel had been changed from the one listed in the itinerary. This would not normally be a problem, except that I had been given detailed instructions on how to find the drinking hole of the Saigon rugby fraternity, the Café Latin, from where we were supposed to be staying and had no idea where the new hotel was in relation to all this.
After crawling our way through the traffic we eventually arrived at our new hotel, the Kimdo, where rooms were quickly allocated, showers had and the hotel bar tested. I managed to find out that we were not too far from where we had originally been booked, and was given instructions on how to find our way there, from whence we, hopefully, would be able to find our way to the Café Latin to meet some of the Saigon Geckoes for a quiet drink or two.
We departed as a group, but were quickly outnumbered by a mind boggling assortment of beggars, salesmen and guides. I can only surmise that they saw our tour bus arrive and waited in ambush. Unfortunately some of the more inexperienced members of the party committed the fatal mistake of making eye contact. We eventually managed to extricate ourselves and headed of in, what I hoped was, the correct direction, but not before Fatcat (accidentally, he claims) pulled off the hit of the tour thus far and bowled over a young street urchin, whose eyes and hands were a bit too close to pocket level for comfort.
I managed to find the Café Latin first go, much to everyone's surprise, and no thanks to one particularly insistent 'guide' offering to take us to all manner of salubrious establishments. We entered to be met by a few drunken expats, a couple of naval officers from a visiting Aussie warship and the barstaff. Not a Gecko to be seen.
Not to worry. We set about making ourselves at home. I was a bit surprised that Tiger beer was the drink of choice, rather than the local 333. Mark, the expat bar manager, made us feel very welcome, as did all the staff. Blackbird and Bob had a friend, Kim, who was working in Saigon. The poor girl almost got swamped by half drunken rugby players when she walked in, but managed to survive and hang around for a few drinks. We were obviously drinking at a satisfactory rate, as the Tiger lady gave us all Tiger lighters.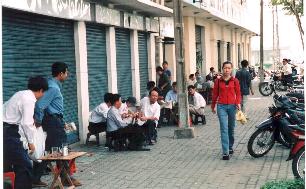 Sometime during the night half the team decided to go to a restaurant Kim had suggested. The other half, myself included, weren't going anywhere. Eventually a couple of Geckoes players turned up, although they had no idea we were going to be in town, but had just happened to pop in. By this stage we had taken control of the CD player, had people behind the bar, and were generally having a very good time of it. We must have been drinking at an extremely satisfactory rate as the Tiger lady now gave us all Tiger t-shirts.
All good things must come to an end and eventually the bar closed or ran out of beer, I can't remember which, and it was time to try and navigate back to the hotel. Uncle Dan, Jimmy and various others decided to go for a bit of a stroll, where they were harassed by a bunch of street kids, ended up getting lost and required a taxi to get back to the hotel, a feat Pigeon and I managed to accomplish unaccosted.
Little John and Jimmy were both pickpocketed, although I was a bit dubious of Jimmy's claim when he said 'they're really good here. They only took the big notes'. I managed to get through the whole night without converting any money into Dong.
I think everybody was very grateful that the different time zones meant we had an extra three hours to sleep in, compared to Sydney.
Laotian Rugby Tour Diary Archive