The 3rd Sydney Meet - Part II
Created | Updated Aug 28, 2003
You know you are an h2g2 addict when...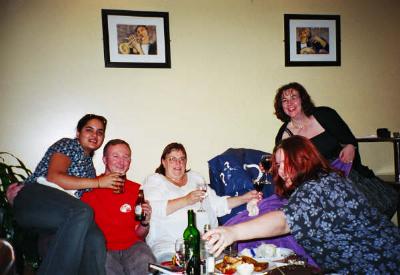 ...you travel half way around the world to go to an h2g2 meet!
I had dropped by the Australia and NZ researchers page a couple of months or so ago to check out which researchers were where, and hanging off the page was a thread about the next Sydney meet. It was taking place a couple of weeks before I was due to fly in, so I dropped by the thread and posted an 'aw, shucks, that's a shame' message. The next thing I know they've moved the date so I can attend!
Blimey!
So the Sydney meet becomes a fixture in my itinerary, and Big Bro is told that I will be going to meet a whole load of people I don't actually know, and nothing is going to get in the way!
I'd shown Big Bro h2g2 a couple of years ago, and he had lurked a little but never actually signed up, so he did not know just how wonderous a place it is. But he could hear the modem connecting at 3 in the morning when I signed on each night in a fit of jet-lagged insomnia, and he could see just how much time I spend here.
I was a little nervous, I had 'met' Feisor on-line a few times, but I was not really aware of Linus, Shrillian, Cheesecake or Platypus. This is partly because I have been limiting myself to Peer Review and Ask h2g2 for a while, and partly because the 11 hour time lag does make a difference. Amy the Paper Lady was going to be there, but though she takes great photographs, she isn't always the most talkative of members at a meet.
What if they were all 15 year olds, (apart from Amy)?
What if they were all Thingites, (apart from Amy)?
What if it turned out we had NOTHING in common at all, (apart from Amy)?
And I was forcing poor Big Bro into coming along with me, partly for moral support, and partly because I thought it would be fun for him. Educational, like.
Anyways - Feisor had phoned me and promised to meet us underneath the main steps at the Opera House. (A wonderful place for a rendezvous). Feisor had said 'You will recognise me' - and there are few truer statements in the world than that. Once you have seen a photo the reality is even more unmistakably wondrous!
We all climbed into a cab and went off to a real pub. Most of the pubs where Big Bro lives are now up-market bars, but this was an honest to goodness pub.
And what can I say?
Hootooers are amazing people. We had a wonderful evening talking about everything from - well everything really. Cheesecake, spam, red-wine smileys (thank you Platypus), the art of being an Aunt, the history of the site, (we all miss Peta), Rupert, Thingites, our favourite researchers, (that took ages and ages - how many ears were burning on Saturday?), English pubs, Australian pubs, Star Trek, Doctor Who, Salmon of Doubt, more Heinlein than you can shake a stick at - hey - everything under this and every other sun!
Oh - and Shrillian showed Big Bro a really neat way to set the triangle in pool. Very

The lovely thing was the conversations ebbed and flowed and we all ended up speaking to everyone one at a time, (apart from Linus who had to leave early).
Pictures are now available on My Geocities Site
So -
If you are EVER in any doubt about going to a meet -
Remember that this one was worth crossing the planet for!