Storytime in France
Created | Updated Jan 3, 2021
Storytime in France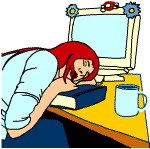 Story time: My dad's been volunteering on a chat website for people who've lost someone since the beginning of the year.
Last night, he got a call from someone who asked, 'what would one write in a letter to a friend when one has lost one's husband?'
So he asked if the caller had lost their husband? Or someone else?
And the caller responded...
'Ok, let's imagine I lost my husband and I write to a friend? Our literature teacher said we had to.'
One thing they had right: before you write, always do your research.
My dad says they looked like they were hoping they'd get a ready-made letter, though, so they were a little disappointed. But he did give them pointers.
Create Challenge Archive