Post Quiz: Flag-Waving Music
Created | Updated Jul 1, 2018
Post Quiz: Flag-Waving Music
This is a US-centric quiz, because only the US has so many popular patriotic songs. Even if you aren't from the US, though, you may find this quiz fun. Guess the answers.
Neil Diamond's song 'America' celebrates the contribution of immigrants to the United States. It was played at the centennial rededication of the Statue of Liberty. On what occasion was it banned?


On radio stations following 9/11.
At the 2018 inaugural ball.
On the Billboard Top Forty.
By disc jockeys during hurricanes.

'Columbia the Gem of the Ocean' was very popular in the 19th Century. It was also played when the Apollo 11 astronauts were recovered at sea. What distinction does it have?


It was the first patriotic song composed for the US.
It was composed by John Philip Sousa for the Chicago Exposition.
It was once considered the unofficial national anthem.
It was originally about the country of Columbia.

Who performed the song 'Don't Tread on Me'?


Benjamin Franklin, at the City Tavern.
Jimi Hendrix, at Woodstock.
Lee Greenwood, on the Grand Ole Opry.
Metallica, on their self-titled album.

'Fanfare for the Common Man' is considered patriotic because of the title, which is taken from a public speech. Who composed it?


John Philip Sousa.
Stephen Foster.
Aaron Copland.
Leonard Bernstein.

'God Bless America' was written by Irving Berlin, an immigrant born in Russia. What war prompted this composition?


The US Civil War.
The First World War.
The Second World War.
The War of 1812.

'Lift Every Voice and Sing' was composed by Robert Weldon Johnson. What is the song unofficially known as?


The African American national anthem.
The Trades Unionist anthem.
The anthem of the Great Depression.
The Fourth of July hymn.

In 'Marching Through Georgia', who was marching through Georgia?


Abraham Lincoln.
Robert E Lee.
William Tecumseh Sherman.
The Nitty Gritty Dirt Band.

Why does the song 'My Country, 'Tis of Thee' confuse foreigners when it is played and not sung?


It has a nice rhythm, and you can dance to it.
It is very long.
Its melody is taken from Beethoven's Ninth Symphony.
It has the same tune as 'God Save the Queen'.

The song most Americans know as 'the monkey wrapped his tail around the flagpole' is really called…


The Stars and Stripes Forever.
The Star-Spangled Banner.
The Washington Post March.
National Emblem.

Who wrote 'You're a Grand Old Flag'?


John Philip Ever-lasting Sousa.
Stephen Foster, on the Swanee River.
Irving Berlin, again.
George M Cohan, the Broadway hoofer.
Has this quiz left you with a head full of random notes? It's summer. Click the picture for answers.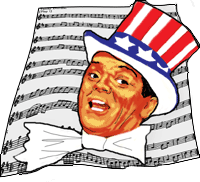 Click for answers.
Post Quiz and Oddities Archive