h2g2 Themed Crossword #2: Amateur Public Private Partnership
Created | Updated Feb 12, 2017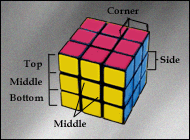 Back Despite Popular Request! It's the…
h2g2 Themed Crossword #2 – Amateur Public Private Partnership by Icy North
This is the second in an occasional series of themed cryptic crosswords, but as we like to innovate, this one is neither cryptic, neither is it really a crossword. It is however themed, and consists of four related quizzes. All you need to know is written in the instructions below the grids. Good luck!
Part 1 - Amateur
Part 2 - Public
Part 3 - Private
Part 4 - Partnership
Instructions
In each grid, you have a set of clues, a set of part-solutions and a grid. These are presented in a random order. You need to:

Solve the clues, matching each to one of the part-solutions.


Next, rearrange the missing letters of each solution (i.e. the parts indicated by asterisks) to give a thematic name.


Finally, fit these names into the grid to reveal another thematic name (or names) in the shaded cells.
For example, if you had the clue 'sorcery' and one of the the part-solutions is 'N * CY', you might solve this with the word 'NECROMANCY'. The missing letters would be ECROMAN, and you could rearrange these into the name CAMERON. Enter this in the grid where it fits (you may have to choose between a number of alternative places)
Notes
All solutions are words and phrases listed in the Collins online dictionary, with the exception of those for:



"Winter-sweet" (found in the Oxford online dictionary)

"Jest" (found in the Cambridge online dictionary)

Names are surnames only, except for the one hidden in Grid 2
Competitions and Quizzes Archive
Icy's Quizzes and More Archive
Icy North