42 Words: Technobabble
Created | Updated Feb 7, 2016
How the Galactic Federation resolve disputes in 42 words.
A few months ago paulh started a journal asking for 42 word stories and poems.
There have been quite a few submissions, and we thought you might like to read them. If you want to try your hand at it, we suggest you pop over to paulh's journal and add your own.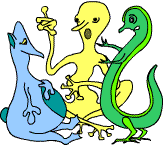 The Galactic Federation of Technobabble alien civilisations.
Alien representatives resolve all their disputes through their technological tournaments to assess who is the most eccentric civilisation. They are judged on their telepathic Technobabble and their techno gadgets where the one that impresses the judges the most is declared the winner.