The h2g2 Poem: Tories
Created | Updated Jul 26, 2015
A couple of weeks ago, I suggested in a Writing Right column that instead of doodling or playing Angry Birds, writers should use their downtime to doodle song parodies.

Minorvogonpoet responded with this gem.
Tories, with apologies to Elgar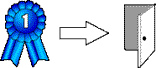 Tune: Land of Hope and Glory
Land of rampant Tories
bashers of the poor,
selling us their stories
dividing us still more.
So the rich grow fatter
while the frail and sad
are told their needs don't matter.
If they can't work they're bad!
Minorvogonpoet Archive