42 Words: The Climber
Created | Updated Apr 5, 2015
ITIWBS' tale of a climber in 42 words
A few weeks ago paulh started a journal asking for 42 word stories and poems. There have been a few submissions, and we thought you might like to read them. If you want to try your hand at it, we suggest you pop over to paulh's journal and add your own.
The Climber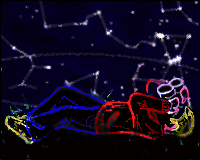 The climber, who slithered more than walked, first to climb above the permanent global cloud canopy, was awestruck by the sunset colors, clouds crashing oceanically on mountain peaks, unseen by all its kind before.
Then night fell and the stars came out.