The Post Quiz: Famous Foodies
Created | Updated Dec 7, 2014
This quiz should whet your historical appetite.
The Post Quiz: Famous Foodies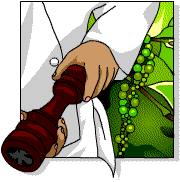 What's the epitome of fame? To get an airport named after you? How about a sandwich? Match these famous food items to their equally famous sources.
Matching.
Dish
Named for…

Lobster Thermidor
Peach Melba
Buffalo Wings
Salisbury Steak
Baby Ruth
Beef Wellington
Bananas Foster
Cobb Salad
German Chocolate Cake
Pizza Margharita

A US physician
An Italian queen
A really good customer
An Australian opera singer
Grover Cleveland's daughter
Brown Derby chef
A boot
A US bakery chef
A city in New York State
A French play
Is this quiz making you hungry? Check the yummy answers by clicking the picture below.

Post Quiz and Oddities Archive