Storyboarding
Created | Updated Mar 10, 2013
Words, words, words. That's what we're made of. Herewith some of my thoughts on what we're doing with them.
Writing Right with Dmitri: Storyboarding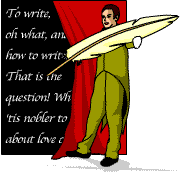 No, not snowboarding. Figure that out on your own.
Have you ever read a tale in a workshop and ended up with lots of questions? I have. Questions like:
Where are these people?
What are they holding in their hands?
What are these events they're talking about?
How did Joe get from the living room to the cellar all of a sudden?
Where did that murder weapon come from?
You get the idea.
Most of our continuity problems come from being unable to visualise the sequence that's going on in the storyteller's head. (Rather like some of the emails I get at the Post.) The problem is that the writer is expecting the reader to fill in the blanks. That's dirty pool, and we won't have it.
The answer, of course, is to get the setting, the props, and the sequence of events firmly in your mind before writing. A bit of preparation is called for. That's where a storyboard – a sketch of events – comes in handy. Let's try it.
Example
Dieter and Heidi are courting. Dieter invites Heidi to come on a picnic. They end up in a romantic setting on a bluff overlooking the beautiful Blue Danube. Dieter's planning to pop the question.
Let's break this down:
Dieter calls Heidi with an invitation.
Heidi packs lunch, tells her mom.
Dieter prepares.
Dieter picks Heidi up. (Car? Horsecart?)
There is a trip.
They unpack lunch at the picnic site.
The view is splendid.
Dieter clears his throat.
Suspense.
What does this look like?
Dieter and Heid's Day Out
See? Now you've got it in your head. You don't have to draw it, or even write it down. But you should be able to see it. If you've got it in your mind, the reader will follow you. Then you can fill in the telling details.
Write us some storyboards. Plenty of space below.
Writing Right with Dmitri Archive