Bang Said The Gun
Created | Updated Apr 30, 2012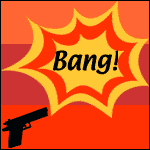 Manchester's live poetry scene is back with a bang.
Hidden away

in the function room of a pub straight from the set of Life on

Mars, one of London's more successful poetry events has been

painstakingly recreated in the dark, cynical North.
The night is

Bang Said The Gun (Manchester), the pub is The Old Nag's Head,

and launch night took place on Thursday April 26th.
With hosting

duties shared by five local poets, Bang is an anarchistic mix of

seasoned scene veterans and open mic virgins split into two

halves. Act One features a poet-in-residence and a special

guest, while Act Two offers anyone ready to brave the microphone

a chance to win the coveted Golden Gun.
The first

night's hosting duties fell to Dominic Berry (as seen naked on

Channel 4), a manic bundle of energy who doesn't so much speak

with his hands as scream with his entire upper body, and the

slightly more restrained Benny-Jo Zahl.
After a brief

warm up consisting of aubergines and an unnatural deployment of

an electric whisk, the crowd were introduced to Bang's first

resident poet, Jackie Hagan.
Jackie's

offering centred on a theme close to the hearts of the audience;

reconciling working class roots with middle class pursuits

(University, olives, poetry), and her

caustically witty insights can't help but wring a wry smile from

any crowd.
After a brief

interlude from next week's host, the always superb and

superlative (but never superfluous) Rod Tame, the night's star

billing took to the stage.
Ben Mellor of

Penultimate is no average performer. Having won Radio 4's poetry

slam, he brings a real confidence and charm to the stage, and

his performance at Bang was no different.
Ben's three

poem set touched upon the wisdom of proverbs and the potential

of paper, before preparing the country for the inevitable summer

outbreak of nationalist half-wittery with the hilarious "Come On

England".
Act two's

guest slot is reserved for Bang Said the Gun winners, but with

this being opening night, it was left to Wigan & Leigh slam

winner Charlotte Henson to follow Dave Viney's brief

introduction.
Charlotte's

style is just about uncomfortable enough to make stand up poetry

look difficult - providing an ideal introduction to the climax

of the night. The open mic contest.
Open mic

nights are always a mixed bag, but quality at Bang was high,

with the impromptu "volunteer" judge finding it hard to choose

between the Nearly Dead Poet Society's "Too Young to Die, Too

Old to Rap" and Thick Richard's "Scum of the Earth". After brief

deliberation and a scientific comparison of applause, Thick

Richard walked away with the prestigious Golden Gun and a guest

slot for next Thursday.
With the

awards done, it was left to Keiren King to close the night with

a personal favourite of mine – "Whatever Happened to the

Heroes?"
If Bang lives

up to its own high standards, it's pretty clear what happened to

Manchester's poetry heroes. They set up a weekly event just off

Deansgate. See for yourself.
Bang Said The Gun (Manchester)
- Thursdays, 7:30pm - The Old Nag's Head,

Jacksons Row, Manchester - £5 entry/£3 concessions
May 3rd -
Hosted by Rod Tame & David Viney, with Jackie Hagan as

poet-in-residence.