Post Quiz: Fun Factoids from Transportation History
Created | Updated Feb 19, 2012
While everybody is busy travelling around, it's time for a quiz.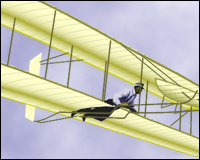 Fun Factoids from Transportation History
Who was the first English monarch to travel underwater? (Quiet in the back.)
What was your best bet for a flight from Paris to Rome in 1805? (Note: It was possible.)
How long did it take for a message to reach California from New York in 1860?
Speaking of travel times, how long would it take you to get from London to Bristol in 1784? (Assuming that you wanted to go there.)
Long coach rides could be hard on the posterior. All that bouncing wasn't fun. Why would you prefer a Concord coach in the 19th Century?
Back to air travel. Where could you get an airline ticket in 1909? (And did it save you time?)
Let's talk 'political correctness'. Was the first flight attendant called a 'stewardess'?
We all know that the first animals to fly (without using their own wings) were a duck, a rooster, and a sheep. (Montgolfier Brothers, balloon.) What animal had the honour of being first in space?
True or false: The bicycle was invented in Stoke Poges in 1642.
What mode of transportation was preferred by the man responsible for the traffic roundabout?
As usual, click on the picture below for the answer key.

General Features Archive