The h2g2 Poem: Kisses are Whispers
Created | Updated Jan 22, 2012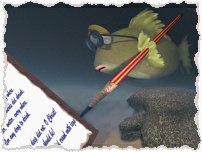 Kisses are Whispers
On the forehead of my little baby girl

Silently thanking God for her beauty

And the joy she brings to our lives.
On the skinned knee of my over-active toddler

Gently letting her know it will be all right

And wishing all the hurt away.
Blown across the schoolyard to my teenage daughter

To remind her how much I still love her

Even if it's not cool to say so in front of her friends.
On the back of my daughter-in-law's hand

To earnestly acknowledge that I appreciate

All she does for her husband and their children.
On my darling wife's soft and sensual lips

To reaffirm my vow to love her always

As we take life's journey together.
On the top of my mother's head

Quietly telling her I still hold dear

All the good things she's done for me.
Upon the cheek of my dearly departed

To say good-bye with teardrops

And the promise to remember.



The Blue-Eyed BiPedal BookWorm Poetry and Haiku Archive