The h2g2 Poem
Created | Updated Jun 25, 2003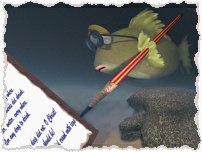 Give It Back
I want what's mine

I want my heart back

Stolen for all time
What gave you the right?

Will you ever see?

I gave it without a fight.
To you I gave my soul

What did you trade it for?

I doubt I can be whole.
This theft cut to the quick

This cannot be replaced

My mind forever is sick
I'd have given you the moon

You had but to ask

But you left me all too soon.
They say I should not let you in

That you have done your damage

And to do so would be a sin.
Perhaps they are right

I should keep you at bay

And it causes tears to blur my sight.
It tears at my being to lock myself away

But you get no access to me

I am deaf to what you have to say.
I once sang to the sky

Of your worth and your person

But now I let my eyes dry.
To what end do you seek me?

Not enough your larceny has cost?

Now I will look and see.
Protestations of love are no more

What I seek is a salve to my pain

My wounds are seeping and sore.
Enough of pleasantries and talk

I gave you my all for nothing

I begin a parting walk.