Sporting With Egon
Created | Updated Mar 19, 2004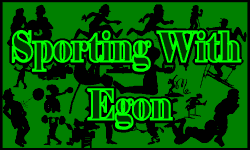 ANGELS IN HEAVEN, GIANTS CUT DOWN TO
SIZE
Major League Baseball's World Series
The all-Californian, all-Wild Card World Series is at an end. There've been twists, turns and excitement. Here's a game-by-game review:
GAME 1, SAN FRANSISCO GIANTS 4 ANAHEIM ANGELS 3, Edison Field, Anaheim, Saturday 19th October 2002 Giants lead series 1-0
Barry Bonds started the World Series as he meant to go on with a home run, his team-mate JT Snow hitting a home run and getting 2 RBIs, while Reggie Sanders also hit a homer for the Giants. The Angels' main challenge was presented by Troy Glaus, with 2 homers and 2 RBIs. San Fransisco were always in the lead, and the Giants have made a very
promising start, Jason Scmidt the winning pitcher, while Anaheim's Jarrod Washburn was the loser in a catch he'd rather forget. The Angels need to bounce right back.
GAME 2, SAN FRANSISCO GIANTS 10 ANAHEIM ANGELS 11, Edison
Field, Anaheim, Sunday 20th October 2002 Series tied 1-1
High-scoring affair featuring, naturally, a home run by Barry Bonds. it was in fact the biggest home run Edison Field has ever seen. But it wasn't enough, thanks to the heroics of Angel's slugger Tim Salmon, who scored two Home Runs and got a base hit on every one of his At Bats. Both teams changed their pitcher several times during the match, but it was Anaheim's talented 20-year-old rookie Frankie Rodriguez who claimed the win with three fantastic innings pitched. He managed to avoid giving up any runs, the only one of Anaheim's five pitchers to do so. The loss was charged to Felix Rodriguez, meaning that, confusingly, Rodriguez both won AND lost the game. Spencer Percival claimed the save for the Angels and, in addition to Bonds and Salmon; there were Home Runs for Giants hitters Reggie Sanders, David Bell and Jeff Kent.
GAME 3, ANAHEIM ANGELS 10 SAN FRANSISCO GIANTS 4, Pacific-Bell Park, San Fransisco, Tuesday 22nd October 2002 Angels lead series 2-1
Barry Bonds hit his record-breaking seventh home run of the play-offs, meaning that he has scored in very match of the World Series so far. Rich Aurilia also hit a homer for the Giants. The Angels extraordinarily managed to score ten runs without a single homer, and
they batted around1 twice. Scott Spezio picked up three RBIs, Salmon, Glaus, Anderson, Kennedy, Molina and Eckstein also picking up one each, as Ramon Ortiz claimed the win, Livan Hernandez being charged with the loss. The Angels' two bat-around innings were historic, being the first time in World Series history that two bat-around innings have been achieved back-to-back (3rd and 4th)
GAME 4, ANAHEIM ANGELS 3 SAN FRANSISCO GIANTS 4, Pacific-Bell Park, San Fransisco, Wednesday 23rd October 2002 Series tied 2-2
For the first time in the series, Barry Bonds didn't score a home run. Neither did anyone else on the Giants team, to be honest, but they still came back from a 3-0 deficit after Troy Glaus' homer. RBIs2 for the giants came from Benito Santiago, David Bell, Jeff Kent and Rich Aurilia. Francisco 'Frankie' Rodriguez finally proved to be fallible as he gave up the game-winning hit to Bell.
GAME 5, ANAHEIM ANGELS 4 SAN FRANSISCO GIANTS 16, Pacific-Bell Park, San Fransisco, Thursday 24th October 2002 Giants lead series 3-2
This match seemed to be over after two innings with the Giants strolling into a 6-0 lead, but by the middle of the sixth the Angels had fought back to 6-4. The Giants then ran away with it - Jeff Kent hitting two two-run homers and Aurilia a three-run homer. Giants'
catcher Benito Santiago also chipped in with thee RBIs. The Angels bullpen was ripped to shreds and this victory, with the win charged to Chad Zerbre, put the Giants in an increasingly powerful position in the series.
GAME 6, SAN FRANSISCO GIANTS 5 ANAHEIM ANGELS 6, Edison Field, Anaheim, Saturday 26th October 2002 Series tied 3-3
By the seventh inning stretch 3 the Giants had a 5-0 lead. Shawon Dunston and (who else) Barry Bonds had hit Home Runs. Jeff Kent had picked up an RBI. It looked over. It looked like the Giants had won the World Series. But then they collapsed. The pitching fell apart as Felix Rodriguez and Tim Worrell allowed the gap to close, culminating in the normally reliable Robb Nenn blowing a save. And most surprising of all, Big Barry Bonds made a couple of horrible fielding mistakes in Left Field. Charitably, only one was officially scored as an error - the one where he tried to pick the ball up barehanded, missed, tried to pick it up with his glove, turned, and fell over. He also fumbled one in the outfield that was not scored as an error, but his bad fielding decisions cost the Giants dearly. In addition to poor pitching and a couple of clangers from Bonds, Darin Erstad and Scott Spezio's Home Runs claimed the victory. Winning pitcher was Brendan Donnelly, a 30 year old rookie. It was now 3-3. It was going down to the wire.
GAME 7, SAN FRANSISCO GIANTS 1 ANAHEIM ANGELS 4, Edison Field, Anaheim, Sunday 27th October 2002 Angels win series 4-3
No Home runs in game seven, and the big guns looked to have been unloaded. The Giants had blown it by the third inning, as Livan Hernandez left the game, having given up three RBIs to Garret Anderson, who had otherwise had a pretty quiet world series, and one by catcher Bengie Molina. The Angels used three pitchers, and all three stood up and did their jobs well. Their team was never behind, Kevin Lackey pitching five innings for the win, Brendan Donnelly and Frankie Rodriguez pitching two and one innings respectively and holding, and Troy Percival pitching the ninth inning for the save. For the first time in their forty-year history, the Anaheim Angels won the World Series. They were eight outs from defeat on Saturday night, and now they're the champions. The only down-side for Angels fans was that their founder, the 'singing Cowboy' Gene Autry, didn't live to see his team take on the New York Yankees, Minnesota Twins and finally the San Francisco Giants and beat all three.
MVP4: Troy Glaus (Anaheim Angels)
If the Giants had won the series, there is little doubt that the MVP award would have gone to Barry Bonds. But they didn't, so it didn't. Troy Glaus was the most consistent performer for the Angels in the World Series, and his habit of getting Home Runs and RBIs when his team most needed them helped his side to survive and prosper. Obviously, he
couldn't have done it on his own, and every single Angel who played in this series deserves a lot of credit, but Glaus was their star, the jewel in their halo.
Egon
1All nine players batted in a single inning
2Runs Batted In = the number of runs which were scored as
a direct result of that player's At Bat
3In the middle of the seventh inning at baseball games, they have a little stretch and someone slightly famous sings God Bless America
4Most valuable player