Sporting with Egon
Created | Updated Mar 19, 2004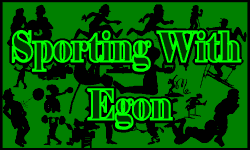 An all-Californian World Series, a
sixteen-year-old striker, the aftermath of last week's
international football, an embarrasment for the
England cricket team, and fun with oval
balls.
SWEET LITTLE
SIXTEEN
What other story can an Evertonian begin with than
that of young Wayne Rooney.
Picture the scene - with ten minutes remaining,
eternal strugglers Everton are drawing 1-1 at home
with all-conquering champions Arsenal, a team unbeaten
in thirty Premier League matches. A result Everton
would be delighted with, and Arsenal slightly
disappointed, but relieved to keep their unbeaten
record in tact. Ten minutes to go. Everton
goalscorer Tomasz Radzinski is then substituted,
replaced by Wayne Rooney, a sixteen year old
centre-forward yet to score a Premier League goal.
With thirty seconds of normal time remaining Rooney
picks up a Thomas Gravesen pass thirty yards from
goal, controls the ball perfectly, turns slightly, and
fires a rocket with the outside of his right foot.
Arsenal's England international goalkeeper David
Seaman reaches out his arm in vain, this time his
positioning was not at fault but he still couldn't
grasp it. The ball hits the underside of the
cross-bar and drops perfectly into the back of the
net. Wayne Rooney is the first sixteen year old to
score in the Premier League. The unfashionable
Everton, whose glory years are now over a decade
behind them, ended a record-threatening run by a team
described in this very column as 'unbeatable'.
Wayne Rooney has arrived. He is currently still an
apprentice until his 17th birthday, earning £80 a week
under the scholarship scheme, and he is currently the
most talked about player in English football. At the
weekend, the Italian newspaper Gazetto Dello Sport
had a feature on him. As Liverpool's players
1 arrived in Moscow on Monday in
preparation for their Champions League match with
Spartak Moscow, they were greeted by newspaper
headlines of 'Everton teenager ends Arsenal run'
2.
There is no hiding that Wayne Rooney could blossom
into one of England's finest forwards, like earlier
teenage proteges Alan Shearer and Michael Owen did.
However, Everton have to protect Rooney, nurture him
and be careful not to over-expose or over-work him, or
else he could go the same way as Jason Dozell.
Evertonians will also be hoping he doesn't go off the
rails like our last great hope Danny Cadamarteri, or
search his fortune elsewhere, like Francis Jeffers or
Michael Ball. But, Everton boss David Moyes said
himself, with heroic understatement 'We might just
have something special here'.
THE SAINTS GO MARCHING
IN
As I have made apparent in earlier columns, I
currently inhabit the bleak, north-eastern footballing
city of Sunderland, and have thus been in a fine
position from which to comment on their managerial
saga surrounding Peter Reid being replaced by Howard
Wilkinson. Well, last weekend, for the purposes of a
family party, I returned to my home town, the bleak,
north-western rugby-league heartland of Warrington.
What with being in such a rugby-centric part of the
world, I found it hard to avoid Rugby League's Super
league play-off system.
Now, I should explain that, as a result of years of
PE lessons in the cold, wet, mud, rain, snow, hail
and sleet, and being tackled ruthlessly to the ground
in all these conditions, there is no love lost between
me and rugby league. However, I have a lot of
rugby-watching friends who insist on filling me in on
what is happening in that particular oval-ball game,
so here goes:
Apparently, at the end of the Super League season,
there are play-offs, the composition of which is
incredibly bizarre and, as such, I can't explain it.
Anyway, it culminates in a grand final, which happened
to be between St Helens3 and Bradford4. Apparently, it was an evenly
matched, hard fought battle and, with a matter of
seconds remaining, the score was 18-18. St Helens
then claimed a last-gasp victory with a drop goal to
claim a 19-18 victory and the Super League total
I'm not quite sure what the significance of that
is, but congratulations to St Helens and all their
supporters anyway.
MAJOR LEAGUE BASEBALL: The World
Series
GAME 1, SAN FRANSISCO GIANTS 4 ANAHEIM ANGELS
3, Edison Field, Anaheim, Saturday 19th October
2002Giants lead series 1-0
Barry Bonds started the World Series as he means to
go on with a home run, his team-mate JT Snow hitting a
home run and getting 2 RBIs, while Reggie Sanders also
hit a homer for the Giants. The Angels' main
challenge was presented by Troy Glaus, with 2 Homers
and 2 RBIs. San Fransisco were always in the lead,
and the Giants have made a very promising start,
Jason Schmidt, the winning pitcher, while Anaheim's
Jarrod Washburn was the loser in a match he'd rather
forget. The Angels need to bounce right back.
GAME 2, SAN FRANSISCO GIANTS 10 ANAHEIM ANGELS
11, Edison Field, Anaheim, Sunday 20th October
2002Series tied 1-1
High-scoring affair featuring, naturally, a home
run by Barry Bonds. It was, in fact, the biggest home
run Edison Field has ever seen. But it wasn't enough,
thanks to the heroics of Angels slugger Tim Salmon,
who scored two Home Runs and got a base hit on every
one of his At Bats. Both teams changed their pitcher
several times during the match, but it was Anaheim's
talented 20-year-old rookie Frankie Rodriguez who
claimed the win with three fantastic innings pitched,
in which he managed to avoid giving up any runs, the
only one of Anaheim's five pitchers to do so. The
loss was charged to Felix Rodriguez, meaning that,
confusingly, F Rodriguez both won AND lost the game.
Spencer Percival claimed the save for the Angels and,
in addition to Bonds and Salmon, there were Home Runs
for Giants hitters Reggie Sanders, David Bell and Jeff
Kent.
GAME 3, ANAHEIM ANGELS 10 SAN FRANSISCO GIANTS
4, Pacific-Bell Park, San Fransisco, Tuesday
22nd October 2002Angels lead series 2-1
Barry Bonds hit his record-breaking seventh home
run of the play-offs, meaning that he has scored in
every match of the world series so far. Rich Aurilia
also hit a homer for the Giants. The Angels
extraordinarily managed to score ten runs without a
single homer, and they batted around5 twice.
Scott Spezio picked up three RBIs, Salmon, Glaus,
Anderson, Kennedy, Molina and Eckstein also picking up
one each, as Ramon Ortiz claimed the win, Livan
Hernandez being charged with the loss. The Angels'
two bat-around innings were historic, being the first
time in World Series history that two bat-around
innings have been achieved back-to-back (3rd and
4th)
The rest of the series. There will
definitely be Games 4 and 5 (Wednesday and Thursday)
in San Fransisco and, assuming that the Angels don't
win both of those, the whole caboodle returns to
Anaheim for game 6 on Saturday. If the series is
then in a 3-3 tie, game 7 on Sunday.
Can't bear to be without an internet baseball fix
when my columns not out? MLB.com
is updated regularly and has all the news from the
World Series.
INTERNATIONAL FOOTBALL CASE STUDY:
England
So, whose fault was the draw with the Former
Yugoslav republic of Macedonia? David Seaman? Sol
Campbell? Paul Scholes? Sven-Goran Eriksson? Alan
Smith? Michael Owen? Lets look at the evidence:
David Seaman is being blamed by large sections of
press and supporters, and there is a growing lobby
calling for his international retirement. He is being
blamed because of the first Macedonian goal, which was
scored direct from a corner, looping over Seaman's
head. However, I think that the blame is unfair.
It's like the Ronaldinho free kick in the World Cup -
Seaman had to play the percentages - get in the
position he's most likely to need to be in. I
actually blame Paul Scholes for that first goal - he
was standing at the back post, the intention being
that if the ball got past Seaman, he would be there to
stop it. When the ball came towards him, Scholes
ducked under it, allowing the ball to cross the
line.
And also, if Seaman were forced out of the
international game, who would replace him? David
James has always been suspect, Nigel Martyn and Chris
Kirkland aren't playing at club level, Paul Robinson
hasn't been overly impressive this season, and
Everton's own Richard Wright has yet to regain his
confidence which was shattered during his year at
Arsenal.
After David Beckham's stylish equaliser came the
second Macedonian goal, this time entirely the fault
of England and Arsenal centre-back Sol Campbell.
Campbell fluffed a clearance right to an opponent, and
then contrived to block Seaman's view of the ball, and
thus give his goalkeeper very little chance of saving
it.
Both England's goals were scored by midfielders
(Steven Gerrard and Beckham), which reflects badly on
the strikers Alan Smith and Michael Owen, whose
finishing was indifferent. If those two players
fought for the ball and tracked back in the way that
substitute Darius Vassell, or even the much maligned
Emile Heskey do, they would have been much more
productive. And Smith deserves extra criticism for
getting himself sent off with a minute left for
fouling a Macedonian after the ball had gone
out of play for what would have been an England
throw-in.
However, the main factor seems to be a lack of
understanding and cohesion in the team, not aided by
Sven-Goran Eriksson's confusing selection of Wayne
Bridge on the left wing. Also, Eriksson appears to
have been unneccessarily harsh on Leeds' Danny Mills,
who had a fantastic World Cup, only to be dropped in
favour of Gary Neville when the latter recovered from
injury. Also, the continued international exile of
Real Madrid's Steve McMannaman is confusing, even a
player like Frank Lampard Junior is in the England
side, and Sven's reasons for leaving Owen Hargreaves
of Bayern Munich and Manchester United's Nicky Butt
out against Macedonia when he was selecting a defender
in midfield is confusing.
England have a lot of very good players, but until
they can work together and Sven Goran Eriksson works
out what his best team and best formation are, they
will struggle, even against 'minnows' like Slovakia
and FYR Macedonia.
INTERNATIONAL FOOTBALL CASE STUDY:
Wales
The Welsh national team used to be the laughing
stock of British football, but no longer. The rapidly
improving current Welsh side defeated Italy last week.
Let's have a look how:
Unlike England, Wales are not overly blessed with
very good players. Ryan Giggs is their only World
Class player, while Craig Bellamy is the only other
member of the team who would get in the England team
and Simon Davies may have been able to push for a
place on the England bench. And against Wales Giggs
was off-form, with the exception of one cracking free
kick.
Some people have sought to denigrate the Welsh
achievement by pointing out that italy had a lot of
injuries. While this is true, their side still
included such world-class names as Del Piero,
Montella, Tomassi, Di Biagio, Neta, Cannavaro, Panucci
and Buffon. Wales had John Hartson, Robbie Savage,
Mark Pembridge and Gary Speed.
The Welsh victory obviously owed a lot to
goalscorers Davies and Bellamy, but the fact that the
Italians only managed one goal, and that a free-kick
from Allesandro del Piero, owes a lot to the Welsh
defence and in particular Daniel Gabbidon.
Despite marking Montella and Del Piero, both huge
stars in Serie A, Gabbidon seemed unfazed which is
surprising considering 23-year-old Gabbidon plies his
trade in the English Second Division for Cardiff City,
having left West Bromwich Albion a couple of years ago
as he couldn't break into the team. And yet he looked
comletely at home alongside the Italians.
The main difference between Wales and England is
that while Eriksson's England are fine individual
players who appear to have trouble working together
and getting motivated, the Welsh side, under the
stewardship of Mark Hughes, is playing with a passion
and teamwork which belies the limited resources at
their disposal.
England have the better players, Wales the
better team.
CRICKET: England in
Australia
England started their tour of Australia with an
embarrasing 58 run defeat against the Australian
Cricket Board Chairman's XI. For those of you who
don't know, the Chairman's XI is made up of a
combination of Australian second string players,
veterans who used to play for the test team but are
now in their 40s, some youngsters, and some
non-descript players from the state sides.
Not a good start.
A VIEW FROM ACROSS THE
ATLANTIC
More wise words on the oval-balled football from
the US of A courtesy of Several
a.k.a. Random
There is a curious concept in the National Football
League, agreed upon by both the players and owners,
called 'parity' which means each club shares equally
in the television revenue$, and $hare$ equally all
tho$e million$ and in addition all $hare in the
penaltie$ for each club which $pend$ more than a
league-set allowance for player $alarie$. This
results in parity, which is short for nearly everyone
who is at - or close to - 50/50 in wins and losses, making
each game important in the 16-game season. Tiny Green
Bay, Wisconsin (the Packers, named after the area's
meat-processing plants) is nearly the equal of the
Chicago team and the two New York (Noo Yawk) teams and
all others6.

The oddest moment of the weekend came in the San
Francisco-N'awlins (New Orleans) game when the SF
coach (their baseball team is tied one game each in
the World Series) declined a penalty which allowed
N'awlins to score the winning touchdown. The coach
declined the penalty to allow SF 1:56 left on the time
clock to attempt to tie the game, but their subsequent
drive ended 39 yards short of the end zone as time
expired, leaving SF in a tie with Arizona in the
National West division. N'awlins leads Tampa Bay by a
game in the South, Green Bay is running away with the
North, and Philadelphia and Noo Yawk are a game apart
in the East.

Heading toward the halfway mark in the season,
San Diego, Denver and Oakland are all close in the
American West, with Indianapolis and Jacksonville
leading in the South. Miami and Buffalo are a game
apart in the East, with defending champion New England
even-up at 3-3.

The American North is the most hotly contested
race, with the beloved Cleveland Browns nearly on
equal footing with the Baltimore Ravens, which used to
be the Browns until the scurvy millionaire owner 'got
an offer he couldn't refuse' and moved the franchise.
Such an uproar was caused by Browns fans across the
globe, literally, the league was forced to award a
brand-new franchise to the city, keeping the team
colors, records and traditions where they belong.

Along with Baltimore (now named the Ravens, after
Edgar Allen Poe's work) and Cleveland are the
Pittsburgh Squealers (er, um, it's really the
Steelers, after the steel mills that used to be in
town, polluting the land, sky and water) which, at the
time of this triping are kicking off the Monday Night
Football extravaganza, a nationally-televised game
that causes workers to be late Toozday mornings (but
the bosses are usually also late.)
FOCUS ON...
If you think there's something I should report in
this column, drop me a line either in the conversation
forums for this article, on my space or email me at
[email protected]
Egon
1Who actually displaced Arsenal at the top of
the League as a result of Rooney's goal, and also
their own 1-0 victory against Leeds which means that
they haven't lost a league match this
season.
2Only in Russian, I presume.
3Lancashire Rugby
hotspot also famous for Glass and Johnny
Vegas.
4Yorkshire rugby
hotspot also famous for Danny Cadamarteri, Ormondroyd
and riots.
5All nine
players batted in a single inning.
6By the way, Green Bay's team is
owned by the city itself, not some multi-millionaire
comglomerate, meaning that the citizen/shareholders
elect someone to run the football operations while
they control the budget.