The Quest
Created | Updated Oct 10, 2002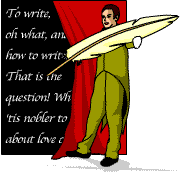 AUTHOR'S NOTE: This story is a work of fiction. (I think you've
probably read the disclaimer enough times by now, so I'm leaving it out. If
you miss it, you can find it at the top of this
episode.)
CHAPTER TWENTY-FOUR
Gw7en grabbed sea roughly and yanked her away from the Porsche. Simultaneously, Marv turned the key, opened the trunk, and looked inside.
'Oh my God,'
he said.

'It's a purple cat.'
Gw7en let go of sea in surprise.

'What?!'
sea adjusted her jacket, sulking.

'I told you I wasn't hallucinating.'
'Thanks, babe,'
said the cat to Marv, who stared at it, stunned.

'It was getting stuffy in there. Now, if you're finished assaulting and kidnapping me, may I tell you why I'm here?'
'Make it quick, furball. Yo's still in trouble, and you're making me late,'
sea growled.
The cat grinned at her.

'On the contrary, my dear. You see, I'm here to take you there.'
Yo sat on the floor near the Total Perspective Vortex with his head in his hands. He could not believe that he was sitting three feet from the greatest creation in the Universe next to digital watches, and he wasn't going to be able to take it with him.
'Might be better this way, you know. Fate sometimes works in mysterious ways...'
the old man suggested.
Yo groaned.

'Sir, I appreciate your opinion, but could you please not give me a philosophy lecture? I'm busy trying to convince my brain to forget that I ever saw this machine.'
The old man chuckled.

'I take it you will be greatly disappointed if you must leave the Vortex behind?'
'That's the understatement of the century, old man.'
'Then perhaps you would be interested in its travel capabilities.'
'What?!'