The h2g2 Poem: The Book and the Phoenix
Created | Updated Dec 30, 2011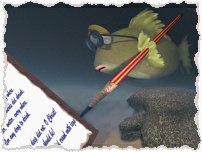 The Book And The Phoenix
In the beginning was a famous book.
Not a sacred book, kept chained and read
by priests in flowing robes. Let's take a look.
These electronic pages seek to shed
a little light for travellers who hitch
between the stars. They tell us how to find
restaurants on distant worlds, and which
aliens won't dump us into space. But mind,
we'll have to listen to their awful verse.
The book mutated, flapped its wings and flew
(for books are birds. Their writers only curse,
can't stop their flight.) It landed in the blue
and white of cyberspace. Around it formed
communities of chattering folk
like starlings. How the airwaves swarmed
with articles, cartoons and dodgy jokes.
Like starlings, websites need a place to nest
but their tree was threatened with the saw.
The chattering folk set out to build the best
and liveliest nesting place. They sought to draw
more people to their tree in cyberspace
and prove their website to be of phoenix race.
Poetry and Stories by minorvogonpoet Archive