Sporting With Egon
Created | Updated Mar 19, 2004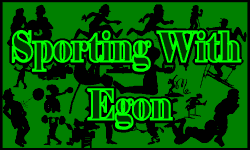 Two weeks worth of sport news, new controversy and the fall from grace of Manchester United.
WHEN IS AN ELBOW NOT AN ELBOW?
Apparently when it is swung by David Beckham. Roy Keane was sent off for his, Thierry Henry faces trial by video for his, but Beckham's swing into the face of Lee Bowyer is to go unpunished.
Yes, the rules of football have thrown up a cracker here. In Rule 15 of the Premier League regulations, a rule described by former scottish international Ally McCoist (more on Scottish football later) as 'shambolic', Thierry Henry can be punished by the FA despite not being sent off, as the referee didn't see him elbow Charlton's John Robinson, while Beckham cannot be punished for his elbow on Bowyer as the referee did see it. Which throws up the question that, if the referee did see Beckham breaking the rules of the game by raising his arms to Bowyer, why the hell didn't he send him off, or at least book him?
It has been pointed out by many Arsenal fans that if the offence had been committed by Patrick Vieira, he would be set for a long suspension now, whereas 'Golden Balls' Beckham goes unpunished. Is this favouritism towards the England captain? Another interesting question is whether, if Bowyer had elbowed Beckham, the outcome may have been different.
Now, I should point out that I find Lee Bowyer of Leeds United to be a generally obnoxious character, ditto Roy Keane, but that shouldn't mean that they get punished more severely than David Beckham, the nice but dim captain of the English national team, for the same kind of offence.
And if Thierry Henry is punished for his elbow (which DID NOTmake contact with Robinson), but Beckham, who DID make contact with Bowyer, is not, then maybe we'll all have to look at Arsene Wenger's claims of anti-Arsenal bias a little more seriously from now on.
THE FAROE ISLANDERS PLAY THE FAIRY HIGHLANDERS
And weren't Scotland just terrible. The irony of David Weir, the solid brick of Everton's defence, accompanied by West Ham's normally not-too-inept Christian Dailly, somehow contriving to give away two goals in the first twelve minutes to a primary school teacher from a Danish dependency with a population of 45,00 (thanks to this very useful website for that info on the Faroes), and the best the Scots could do was fight back and draw. Against the FAROE ISLANDS. Even San Marino, Luxembourg and Liechtenstein are good enough to scrape a win against the FAROE ISLANDS.
Elsewhere Wales shocked everyone by beating Finland, England got a draw with Portugal in a friendly and the Republic of Ireland got tonked by Russia.
England's match was made very interesting by the fact that Paul Scholes was withdrawn from the England squad due to 'injury' on the Monday before the match, but played on the Tuesday for Man Utd against Middlesbrough. David Beckham was substituted at the end of the match, and was also deemed by United to be 'unfit to travel' for the England game. Is Sir Alex Ferguson trying to bring the English national team down to the level that United appear to have sunk to?
THE SEARCH FOR WEST BROMWICH
As organiser of the h2g2 fantasy football league, I gave this season's fourth version of the game the title Fantasy Football IV- The search for West Bromwich, a reference both to the classic movie Star Trek III- The Search for Spock and to the fact that West Brom have been out of the top flight so long that no-one else's fans will know where it is.
Well, I think they may have to get used to it, because on the evidence of this season so far, West Brom and fellow promoted midlanders Birmingham City aren't going ANYWHERE. West Brom beat Leeds, only just went down to Man U, got a couple of goals against Arsenal and are currently nestling in 7th place in the Premier League.
Birmingham, meanwhile are in 9th, one place above Man Utd, and having gone to see the Everton-Birmingham match which climaxed in my club, Everton, grabbing a flukey own-goal multiple deflection, 92nd minute equaliser, I was impressed by Birmingham's organisation. Their players aren't the best in the world, and in Robbie Savage they have one of my least favourite players outside of Man U and Leeds1, but they are very good at defending and just distributing the ball and trying to catch the opposition on the break. And in the match against Villa on Monday, the comical own goal when Villa's Olof Mellberg threw the ball back to his goalkeper Peter Enckelman, who appeared to get the slightest of touches as the ball rolled under his foot into the goal, gave Birmingham a bit of the luck that Unsworth had at Goodison Park.
THE PREMIERSHIP TABLE...
...is looking a little odd. Arsenal lead, unsurprisingly. But their local rivals Tottenham Hotspur are unexpectedly second, Newcastle, who get their Champions League campaign underway this week, are only kept off the bottom of the league by West Ham, and I'll get to Man United later...
SAMPRAS STILL OPEN FOR BUSINESS
The US Open Tennis championship was won by Serena Williams (Women's) and Pete Sampras (Men's). Sampras beat Andre Agassi in the final, a battle of the old guard, while Serena beat her sister Venus.
But the big story in the British papers was the extraordinary stupidity and arrogance of Greg Rusedski, a man with little to be arrogant about. Now, after Rusedski (who has never won a grand slam tournament) got knocked out by Sampras (who has won thirteen), Rusedski described Sampras (who has been off-form and had not won a single tournament in over a year) as someone who 'used to be great', had 'lost half a yard of pace' and 'couldn't win Grand Slam tournaments any more'. As Sampras pointed out at the time, if he was that bad, what did it say of Rusedski that Sampras still beat him. Or, in Sampras' words- 'well, I didn't need to be half-a-yard quicker, did I?'. Sampras then went on to win the whole caboodle, proving it's better to be a 'Great Champion of the past' than a whingeing Canadian jessie.
And what of 'Tiger' Tim Henman? As usual, he was more like 'Timid' Tim Henman. While he went out in the same round as Rusedski, Rusedski went down in five sets against the guy who won the whole thing, while Henman got beaten in three sets by Juan Ignacio Chiela, a name familiar to most of us only as a result of Wimbledon Wall Charts (more on Wimbledon wallcharts in the Sporting With Egon archive)
TESTING, TESTING...
A scintillating summer of test cricket between England, Sri Lanka and India ended in a tame draw when the last day of England v India was washed out, ensuring that the four-match series ended 1-1 with 2 draws. Also, England's Ashes squad took a risk with the inclusion of Graham Thorpe, who has been resting from cricket to sort his personal life out, has retired from one-day cricket and has only batted once in the last month, along with Darren Gough, who has been injured for most of the year. If they both hit top form, we might have a chance, but if Thorpe broods and Gough strains, we're in trouble.
The Australians showed just how ruthless they can be as they utterly obliterated New Zealand in their opening ICC Trophy match; England get their campaign underway against Zimbabwe on the Wednesday that this article will be posted, so I'll have a report next week on that.
GLORY, GLORY BOLTON WANDERERS!
Bolton are just one of the sides who appear to be precipitating the fall from Grace of the side we all love to hate, Manchester United.
Lets have a look at Man U's season so far:
Zalagerszeg (A) Lost 1-0
West Brom (H) Won 1-0
Chelsea (A) Drew 2-2
Zalagerszeg (H) Won 5-0
Sunderland (A) drew 1-1
Middlesbrough (H) Won 1-0
Bolton (H) Lost 1-0
Leeds (A) Lost 1-0
So that's defeats against Bolton and Leeds, a draw with Sunderland, the Premier League's whipping boys, only beat Middlesbrough thanks to an iffy penalty, a lucky draw with the erratic Chelsea. A first-leg loss to a bunch of semi-pros from Hungary. It's not the stuff of legends is it?
For the last ten years Man United have been the team to beat in the Premiership, and now they are tenth, just fitting snugly between Birmingham City and Everton. Is it the end of an era?
It may be too early to say, but I think that yes, this is the end of United's dominance of the English game. Liverpool dominated in the 70s, Liverpool, Everton and Arsenal in the 80s, Man U in the 90s, but who will be the team for the early 21st century? I've got to plump for Arsenal right now, they're confident, assured, full of stylish internationals from numerous countries and they won the double last year. Rio Ferdinand cost Man Utd 30 million, Sol Campbell joined Arsenal for free. Ruud van Nistelrooy - 18 million, Thierry Henry, I'm not sure, but less. Veron - 28 million, Vieira more like 1 million. Manchester United have thrown money at their problems, but they are just getting worse. Arsenal have spent wisely, and emerged from the shadows of United. A message for the so-called 'Theatre of Dreams' - Dominance RIP
Egon
1Interestingly, at the Everton v Birmingham match, the Birmingham fans started chanting 'there's Only One Robbie Savage' and one of the Evertonians yelled back 'THANK [email protected]!* FOR THAT!'