Sporting With Egon
Created | Updated Mar 19, 2004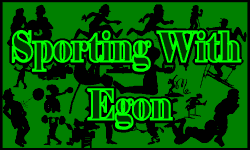 So, mainly the Commonwealth Games this week. Last week's column has finally made an appearance in the archives. We've also had a bit of cricket this week.
TESTING...
England won the first test match against India, England Captain Nasser Hussain winning the man of the match award for a spectacular first innings century. John Crawley and Michael Vaughan scored centuries in the second innings, and debutant fast bowler Simon Jones surprised everyone with his score of 44 from 43 balls. England were competing without fast bowling trio Alex Tudor, Andrew Caddick and Darren Gough but Jones, Matthew Hoggard, Andy Flintoff, Craig White and spinner Ashley Giles performed admirably in their absence.
COMMONWELTH GAMES: Athletics
'If England win anything it'll be the 100 metres.' Yes, I thought that to, but Mark Lewis-Francis and Darren Campbell both limped out of the event with injuries in the final. Oh well, at least someone British will win the 110 hurdles So, Wales' Colin Jackson is 2nd, Tony Jarret 4th, and should have been disqualified and Damien Greaves fell at the first hurdle. Natasha Danvers, in the Women's 400 hurdles also fell, she at the last hurdle having been runing third. Oh well, at least in the Men's 400 hurdles England's Chris Rawlinson was the winner. Scotland's Leigh McConnel came second in the Women's 400 metres, England's Daniel Caines finishing 2nd in the Men's. The Triple Jump was a big event for England; Jonathan Edwards and Ashia Hansen both leaping a hell of a long way for Golds, and Phillips Idowu coming 2nd in the mens. The Men's 200m saw Marlon Devonish finish 2nd and Darren Campbell 3rd. The 1500m was another English double, Mike East and Kelly Holmes wining Gold. In the women's, Wales' Hayley Tullet came 2nd and England's Hellen Pattinson 3rd. Long Jump was another double - Jade Johnson and Nathan Morgan taking Gold, while favourite Chris Tomlinson came 6th. The Women's 5000m was finally won by Paula Radcliffe, Men's Javelin by Steve Backley, the Hammer by Lorraine Shaw and Mick Jones. England were also good in the relays: 4x100 m Men won, women came 3rd. 4x400 m Men edged Wales out in a photo finish, women came 2nd behind Australia.
Elsewhere at the Commonwealth Games
To be brutally honest, I haven't been paying a great deal of attention to the rest of the Commonwealth Games, although I believe the home nations are doing very well at Swimming, Bowls, Judo and Squash, and pretty well at badminton, boxing, table tennis and shooting
FOOTBALL ROUND-UP
Richard Wright joins Everton from Arsenal. Arsenal replace him with Fabian Carini. Middlesbrough sign Juninho (again) and George Boateng.
Egon