360 - Changing the World by Degrees
Created | Updated May 22, 2006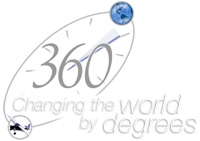 Latest news from 360 -
Changing the World by Degrees.
Astrology has been discussed right left and centre on h2g2 over the years but here's a new idea... how would you like to get a thumbnail picture of your chart done by a real human being? You can get computer-generated ones from the Internet but they are all contradictory and, what's more, they won't answer your questions afterwards.
Add to this, you can get it for FREE! It's the latest on 360 Holistic Health, where AstroLion (and Mrs. Lion) have volunteered to do simple charts. All you have to do is click on
A794847 and tell them your date, time and place of birth. If you don't know the time, ask your Mum (we guarantee she was there). If you live in Scotland or the USA - or you're a twin - it will be on your birth certificate.
Still on Astrology - sort-of - we've an article on BioDynamics - the New Organics. That's about using astrology for better agriculture - there was an article about it on Radio 4 last weekend. Check that out on: A795080
Friendly BBC Correspondent, Jonathan Charles, is back on A705511 to answer your questions about anything in the news (well, virtually anything).
And topic drift still abounds, including an excellent recipe for a very, very stodgy chocolate cake which can be found here.
Changing The World By Degrees Archive