Overland Challenge - Week Fifteen
Created | Updated Dec 14, 2002
Overview | Week One | Week Two | Week Three | Week Four | Week Five | Week Six | Week Seven | Week Eight | Week Nine | Week Ten | Week Eleven | Week Twelve | Week Thirteen | Week Fourteen | Week Fifteen

Watch The Video for Week Fifteen.
3,4 April 1994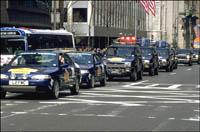 Toronto - New York (Canada and the USA)
Here the enthusiam on reaching Toronto, where I had been so many times before, overtook me. My diary writing stopped. And as, up until this point, I have faithfully transcribed, with a little bit of editing, what I had written directly into my computer or filofax, it feels wrong to just grab from my memory what I recall.
Suffice to say the highlight was meeting my and Vera's very, very good friends Patrick Watson and Caroline Bamford who we've both known from Moscow days, and Michael Levine. Patrick Watson was, and still is, one of the heroes of Canadian television, both as a reporter extraordinaire, television producer, and eventually Chairman of CBC - we met first when he was seeking a co-produce for a huge and ambitious co-production called Struggle for Democracy. Central Television, and therefore me, became that co-producer. The production team went to Moscow where Vera became their translator. We have all become very very close friends since that time. And the broker in all this was Michael Levin. One of, if not the, foremost media lawyers in Canada and, much more importantly for me, a great friend.
He had to be, because alongside John Raymond and me, Micheal agreed to be a director of the Big Race Company that set everything up in the early days.
And, of course, Toronto was Jeff's home. He was the first person to have truly made it.
Apart from that, and a packed press conference, I remember very little.
I do remember we had so much to do that we left late, at 10 that night, for a dash to New York. Jeff and his wife Andrea and Vera and me in Mondeo L2. We were keen to get to New York in time for a couple of hours sleep before the big day that we'd been planning for years suddenly dawned. The rest of the team had gone ahead of us via a sightseeing trip to the Niagra falls. Our expedition was well and truly over.
5 April 1994
New York (USA)
We'd made it. And to prove it Jeff and I were on 'Good Morning America' the CBS morning television show watched by millions of Americans. "Why did you do it?" was the big, obvious and only question. The answer of course was too complex to put into simple words - I haven't even managed to express it in these diaries. But for the record I could only think of saying "because it was there to be done".
But as if to emphasise that it just might have been more than that, as we left the hot, bright lights of the studio I collided, literally, with Henry Kissinger - yes the former Secretary of State of the United States and winner of the 1973 Nobel Peace Prize.
"Good trip", he stated as we sorted ourselves and squeezed past each other in the narrow studio corridor. "We were watching you." I naturally presume Henry Kissinger meant that his entire office was watching our every move through what was, only a few years earlier, forbidden Siberia!
Of course our real triumph was that an international band of, by and large pretty average drivers, had completed the drive of a lifetime against huge odds. And by doing this we had proved that by working together as a team almost anything can be achieved. And that is what I said after we'd driven the length of Manhattan with a police escort, through the gates of the United Nations Headquarters and into the lobby. But my closing speech and handover of the symbolic batton, was dwarfed by a grand television surprise.
Mike Nunn had flown the families of the team out to welcome us to New York, all recorded live for ITV in the UK. Wendy, Simon, Guy and Sarah were there. A extraordinary finale to what was, at the end of the day, a breakthrough television event.
Overview | Week One | Week Two | Week Three | Week Four | Week Five | Week Six | Week Seven | Week Eight | Week Nine | Week Ten | Week Eleven | Week Twelve | Week Thirteen | Week Fourteen | Week Fifteen