Overland Challenge - Week Three
Created | Updated Sep 4, 2002
Overview | Week One | Week Two | Week Three | Week Four | Week Five | Week Six | Week Seven | Week Eight | Week Nine | Week Ten | Week Eleven | Week Twelve | Week Thirteen | Week Fourteen | Week Fifteen
Watch The First Video and the Second Video for Week Three.
10 January 1994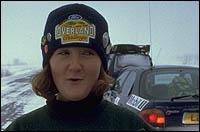 Kustanay to Petropavlovsk (Siberia, Russia)
The rackety, smoky coach arrived to take us to breakfast – which turned out to be a full lunch-type meal. And it was Deon's birthday so he was toasted given a silver ukulele and a rendition of 'Happy Birthday'.
And then it was off in the back of 'Victor's' Monde - L1. Vera was in the front passenger seat translating Victors never ending train of instructions to the English speakers on one VHF radio while Victor shrieked at the Russian drivers on the other. I was feeling lousy and resented Victor hogging the driving. The wind was stirring up the snow on the steppes giving us the first indications of what a whiteout might be like. And for the first time no one wanted to jump out of their cars for a stretch.
Another border reception as we moved into another Kasakh region. Bread and salt (except there was no salt) flowers which had been brought 300 kilometres just for us! Victor and I were at the very front of the convoy, then the trucks and then the Fords, so it was only when they drew up that I saw the balloons in the Mavericks in celebration of Deon's birthday.
I moved into Volodya's, the Ural team leader's, truck, the oldest in the convoy and nick named The Green Goddess, and was enchanted by his determination to learn English. A pity it was Sasha not Volodya who wast sent by UralAz to London to go all the way to New York.
Dumped by Stalin in Petropavlovsk
Petropavlovsk. Another late arrival and another band, this time on the steps of the hotel. I was tired and although Jeni and Jeff give a spirited 'Hey, it's great' some of the team went back to the cars. I gave my worst speech yet but it was clapped anyway in the cold. For the first time, I didn't help park the cars but instead went as the leader was expected too, into the hotel where staff inside were queuing to escort me to my room.
Got a call through to London. They were relieved to hear me but worried about the hopeless communications. Why isn't the Sat fax working and the satellite phone? I told them we'd tried but got cut off. The cumbersome machine - far from top of the range machine - couldn't cope.
At dinner I was once again sitting at the top of the table beside the town dignitaries, but this time it was much less formal.
Petropavlovsk, I learnt from the interpreter, was a thriving industrial town until just two years before. Now all the money had run out and the factories were at a standstill.
I was also told that 500,000 European Russians were sent here by Stalin in his population 'exchange'. And most of the people here did 'look' Russian in contrast to Kustenai.
It was baton time again too, but we were all tired so it was just Richard with a snap camera photographing Eugene Victorov Vice-Chief of the North Kusbass Regional Kusbass Department as we went through the ritual of me giving him the baton to give back to me. It was ten past two before I finally finished the day, but fell to sleep feeling we treated Petropavlovsk badly.
11 January 1994
Petropavlovsk to Omsk (Siberia, Russia)
Doc Paul didn't manage breakfast but he was ready for the off.
I've had shivers all night - flu.
Deon wasn't well either. Jeff went in Victor's car. I was with Peter G.

It was only just over 250 kilometres. After another mild contretemps with Valery and Victor in the police car, and General Victor K who was leading the convoy as ever (I stopped it - to straighten ourselves out) we were again on an exquisite day - blue skies, no wind, and a welcome rest awaiting us. Peter, his military background shining through first talked about the team. We both wondered how our views would change as the weeks and miles rolled past and fell into catching up on each other's thoughts about some of the team.
Team Assessment
General Victor - in his element, obviously an officer and obviously liked being a General. However he talked like a trooper (Russian troopers appear to have very blue language) which must have been hard to take for Vera though all the English speakers liked him.
Vera - excellent, was always looking for ways to help anyone; Peter hoped she'd go with us to New York.
Dieter - very willing and fitting in well, would leave him just with driving, he'd get the Mondeo as far as anyone could which would be good for Ford.
Jeff MacInnis - very strong, very supportive, had been put in charge of supplies and was coping well.
Marielle - Peter wondered if she'd last the journey. He'd ask her to get involved with Jeff with supplies so she had something to do.
Deon - always willing. Peter was keen for him to take full responsibility for communications which were hopeless. The VHF car radios kept losing their power supply, people were too often on the wrong channel and the satellite phone was too unwieldy to use on the move. The satfax should work though.
Jeni, also very willing, thoroughly enjoying it but would be better off with more to do; Peter wanted her to help Deon with communications.
Paul, Mark and Neil were terrific, nothing was too difficult and they were highly responsible.
Doc Ford was, from Peter perspective, a serious worry. Five people in the team needed to be always on the look out to prevent things from going wrong. Victor, Peter, Paul/Mark/Neil, Doc and me. Right now Doc wasn't, he was by and large last to bed, last up. He didn't take special care of himself so he could be sure to be okay if others fell ill. Nor did he ask how people were - so much so that even Victor was starting to raise an eyebrow. However I thought Doc would be terrific in a real emergency - provided he was okay himself.
Flying Fords On
And we talked about Ford Motor Company. David Hunt was happy but both he and Peter were worried about my decision to drop off two Mavericks at Novisibirsk. Their primary concern was that the English speakers found them comfortable and comforting. This wasn't a strong argument from my point of view, indeed I was keen to toughen up the team, and although I didn't say it my mind was set on reducing the size of the convoy.
My mind was also pretty set on flying one Mondeo and one Maverick to Lavrentia from Seymchan/Magadan and taking the other Mondeo and two or three Mavericks as far as they'd go. If we lost some, which I presumed we would, then that was a risk worth taking. At least this plan would mean we'd get a Mondeo to the Bering Straits (Lavrentia) for a photocall, and would underwrite our guarantee to Ford to take their cars as far as they could go. Our views would change a lot as the days sped by and miles rolled past.
Loundspeaker Broadcast Round Town
Omsk. Founded in 1716 - I was presented with a new carpet, with the date written on to prove it - by a famous Cossack leader. This time the ceremony, which took place in the Town Square, didn't include many people. We'd arrived early for the first time ever. However the cars looked impressive, the weather was kind, and the address was broadcast round the town on loudspeakers.
Omsk used to be a centre point of the great trading route from the east to the west of Russia. It was still the biggest town we'd visited since Moscow, 1.2M people lived there and Omsk was at the heart of a belt of acid rain produced by a multitude of factories. For most of us, it was time to relax. Marielle, Jeni and Jeff went for a walk (without the pleasure of being accompanied by security guards).
One the communications front David Fuller got me from Shandwick, but we couldn't phone out from the hotel. Kees and Deon failed yet again to get the satphone to work however Paul, Mark, Neil fixed the VHF phone leads.
It was the first time for ages that I wasn't on the top table. What a relief! Victor produced vodka to toast our getting halfway across Russia before upsetting Marielle by trying to get her upstairs with him. By then I'd gone to my room so Peter and Vera joined forces to save the day.
12 January 1994
Omsk to Karasuk (Siberia, Russia)
Music was blasting out of Doc Paul's car as I arrived for the morning drive.
There was clearly a lot of antagonism flying around between Paul and Peter, because Paul and many of the English speakers felt Peter was trying to turn the expedition into a military exercise. I was aware that most of the team disliked the militariness of Peter and had disliked it from the very start. I also aware that I was still taking advantage of the military ease of getting things done, especially to move the convoy through Russia, while people "got their feet under the table". One example of this was the continuing need for someone (Peter or me) to determine who was driving which car. An aggravating piece of organisation that was needed because David Hunt still wanted the two journalists to mix.
As Doc and I chatted I listened to the banter on Channel 9. It was full of completely idiotic I spies' and music, but it was full of life, fun, youth. And Paul was at the centre of it. If anyone would pull Marielle through, it was Paul not Peter.
We had a cold and windy lunch stop in the middle of nowhere made up of hard boiled eggs, bread and oranges. Once again I found Peter and myself trying to organise who would sit where for the afternoon drive. It ended up with Peter and the Doc being together. From the expression of Doc's fact it was clear that things would fester if I didn't get off the shelf and do something soon.
A plan started to emerge.
At dinner, when I was relieved once again not to be on the top table but with the team, I found that I was expected by General Victor to go for a sauna. Victor also insisted that Marielle go, as the UNESCO representative. I smelt a rat. Marielle refused as did everyone else, and when we got there, Victor refused to drink or go into the sauna.
13 January 1994
Karasuk to Novisibirsk (Siberia, Russia)
I piled into a Maverick with Peter McSean the journalist: he was a very good sounding board and had been asked by the team to talk to me 'off the record' about their fedupness with Peter's military style. My recently hatched plant would have to be put into action soon.
After Peter McSean, David Hunt joined me in the Maverick. David was leaving the convoy with Peter and Eugene tomorrow. By and large he was happy, but both of us knew that we'd seen nothing to test the teams or the cars yet. David was also keen to air his concerns about my sending two Mavericks back to Miass from Novosibirsk. I persuaded him I was right and then got his agreement to my flying a Mondeo definitely and a Maverick possibly out from Magadan to Fairbanks and taking the other Mondeo and the rest of the Mavericks on as far as we could - even if it meant we'd lose some.
At Novosibirsk we found a different second unit team from the UK had arrived and had set up a reception hosted by the mayor at the colonnaded Opera house with dancing and crowds. It was the Russian old year New Year's Eve and the dancers and crowds seemed genuinely excited by our visit. The team, for the first time in the cold, joined in with the dancing.
Would They Make It?
Then it was off to the Hotel Sibir Novosibirsk and a press conference where most of the journalists were very sceptical about our making it to Lavrentia.
Russia is notoriously famous for two things - fools and bad roads - Did I have a comment ?
I replied that I was the wrong person to answer the first question, but did know that where we're going there'd be no roads so the second was not a concern.
At dinner, with the Mayor on the top table, I used the thoughtline for my toast by drinking to turning no roads where we were going into new roads for peace. And felt pretty pleased with myself, the team, the Fords and the Urals for getting here on time.
14 January 1994
Novosibirsk to Kemerovo (Siberia, Russia)
David Hunt and the two journalists left for the UK. I felt we were at last on our own.
At a breakfast meeting I outlined my new plan - two Mavericks would be going back to Moscow, three of the remaining Mavericks would have a specified function - Communications, Film, Mechanics - one Mondeo would be driven by Victor and me. The Film and Mechanics Mavericks and the other Mondeo would be left for the team to organise drivers rotas amongst themselves. Peter would be in the Communications Maverick with anyone who cared to join him where he could be a proper logistics support person which is what he wanted and the team wanted. The next leg would be a lot tougher and we'd see how this plan worked between now and the time we reached Yakutz.
The first dent to that plan happened almost immediately.
First Crash
The Ural Workshop Truck skidded on the downhill side of a narrow bridge, crashing into the side and badly damaged the front suspension and steering and the body 'slipped' forward on the chassis. Walking/running on the bridge to inspect the damage was like downhill skiing without skis. No one was hurt but the crash quickly created a 'political' problem because the Russians laid the blame for the Ural crash on Jeni.
Jeni was driving the Maverick just in front of the Ural Truck which, the Russians said, had to break sharply because she'd slowed down. The Ford tyres had massive studs while the Urals tyres were more like skids, hence the crash. Victor Karputchin and most of the Ural drivers immediately demanded that Jeni and Marielle should be stopped from driving at the earliest opportunity. Victor thought it foolish that the team should pick the cars they drove. The leader (me) should be doing that and only the strongest drivers should be allowed behind the wheel in the difficult driving conditions.
We stayed Kemerovo that night, in the heart of Russia's largest coalmining region. The first mine was opened in 1927 by Americans who came to Russia following a cry of help from Lenin. Later it hosted German Prisoners of war who had spent their years building the most imposing apartment blocks, I'd seen in a Russian city .
When we heard the Workshop Ural Truck would be going back to Miass, instead of onto Lavrentia some of us wished unfairly the Germans had built it too.
To end an unfortunate day Victor, with Vodka in hand, tried out his English with 'Jeni No Good'.
15 January 1994
Kemerovo to Krasnoyarsk (Siberia, Russia)
It was getting cold, indeed Paul Wilson put on gloves for the first time, and very tense.
The German-made heater in Ural Bus had packed up again and Volodia warned me, via Vera, that it might have to follow the Workshop Truck back to Miass. During that discussion I also realised that we might not have enough beds for everyone because our plan had been for the Russian drivers to have all the beds in one sleeping truck, with the rest sleeping in their cabins. Volodia politely, but very firmly, pointed out that all the Russian drivers planned to sleep in Ural truck beds.
I spent the day in Victor's and my Mondeo, finding it uncomfortably silent, or horribly noisy as he screamed instructions about the road conditions into the VHF radio with Russian Military force.
Women Withstand Cold As Well As Men
At Kraznoyarsk we met Professor Ephim Prakhin of The Siberian Department of the Russian Academy of Medical Sciences. I was keen to learn all I could about the cold and we had a good discussion. One thing was very clear. Women and children withstand the cold just as well as men.
That was something that Stepan was not yet ready to get into his mind. When he phoned he was adamant that Jeni, Marielle, and Vera should leave the convoy at Ust Kut, where we were to exchange the State maintained road for our first winter road, and fly to Mirnyy where we would rejoin the civilisation. And there was, of course no way the three women were going to go beyond Seymchan. They should go down to Magadan with the Mondeos. John Raymond phoned to say we were still over budget. Mike Nunn had the good news though, the rushes looked great.
The crash had prompted all kinds of discussion. Peter, Jeff and Vera were discussing food. It seemed a lot of our stores had 'gone missing' in Moscow. And it was over this that I finally lost my temper.
Stop worrying about the food, just get the maximum we might want and we'll give away what we haven't eaten in Lavrentia.
Food of course was the least of my problems. The big one coming up was flying on the women. And I knew it wouldn't take Stepan long to realise that while I wouldn't give way on that one I would have to reduce the team if we didn't have enough beds.
16 January 1994
Krasnoyarsk to Tayset (Siberia, Russia)
More of the German-made heaters had collapsed. In fact, the only heating that appeared me to be reliable were the very Russian wood burning stoves that were in the back of most Ural trucks. I went in with Paul Wilson in the Mechanic's Maverick so see if he had any ideas.

At the end of the morning, I felt 100% better. It was great just to be with a real professional. He was up there with Victor and Jeff as one of the most prepared people on the team to cope with the conditions ahead. After lunch, I was in the film car with Kees and Richard, another really strong team.

When we stopped at the Sanatorium which was more like a comfortable small hotel, I met with Jeff and Deon in the car park. Deon had remained constantly conscientious from the day he joined and I suspected would right up until we arrived in New York, but he didn't appear that interest in learning about Russia. Jeff was learning every second and was delighted that he'd brought along books to teach him more about the country on the way. By comparison I was locked, as I was during the second world trip, in the action of getting there rather than appreciating it. There was time to change, but I wondered if I would.

That night, the temperature was forecast to drop to minus 40; the decision was taken to leave the engines on all night. This was the first hotel where people were two in a room. All except me. I had a suite to myself and spent at least three hours locked in reports, diaries and work with no time left over to read.

Overview | Week One | Week Two | Week Three | Week Four | Week Five | Week Six | Week Seven | Week Eight | Week Nine | Week Ten | Week Eleven | Week Twelve | Week Thirteen | Week Fourteen | Week Fifteen