Stragbasher Moves On
Created | Updated May 1, 2002
The story so far. I am in China and this is news to most of the people who know me.
Hong Kong. Mental place, but opening the guide book for the first time at the airport (never be prepared when travelling, it takes the joy of discovery out of it) I learn that transport costs are 'negligible' in the former colony. I'm going to send them a bill for the $200 that I spent on buses, trains, and ferries in the 30hrs that I was there, on the grounds that they think it's not very much money and therefore won't mind paying it. I think it's a lot and want it back.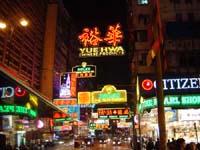 We spent the night at 'The Imperial', because it was easy and we were in Hong Kong, and wandered around Kowloon with our mouths open for most of the evening. If I ever have to pick a big city to live in this will be it. The atmosphere was electric, but not at all threatening - touts stopping you in the streets to say 'Can I help you?' as an introduction to selling you a tailor-made suit, or something electronic. Every other shop is stuffed full of the latest gadgets at prices that make a mockery of duty free shops the world over. And I've never seen so many pretty girls. If I had been there alone I might have put my ZZ Top Cd into my discman and wandered around singing 'Planet of Women'. Fabulous.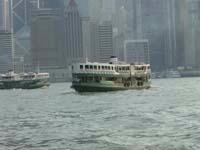 We rode the ferry over to Hong Kong proper the next morning in search of tourist visas for China - due to the spring holiday our school hadn't been able to arrange professional visas for us so we planned to enter as holidaymakers and get an adjustment in Hainan. The visa office was not where the guide book told us it was, and we spent most of the morning traipsing around in search of it - incidentally seeing a fair amount of the city in the process. It all came together in the end, and we got everything done the same day with the intention of getting to somewhere more affordable ASAP.
Ideally I wanted to take the night boat to Hainan, described in the book, but it turned out to be a myth - as did the boat to Guangzhou. Nobody was prepared to acknowledge the existence of anything so old fashioned as a boat, when the alternative was to wait a week for the next available flight. In the end we took the MTR (underground train) to the Kowloon Canton Railway, which runs to the border with the real China, the communist one. Bear in mind that it was rush hour and we had piles of bags, including a big box full of books. (I'm such a practical traveller!) I'm seriously coming to believe that a rucksack is just about the most useless article of baggage you can possibly have. Not only does anything fragile (such as a bottle of shampoo) get instantly destroyed, even if you wrap the end with painter's tape stolen from your former employer, but try getting the blooming thing on or off a crowded train without killing people and you'll reach the same conclusion.
I'm going to buy one of those big suitcases on wheels, and who cares what the smug so-and-so's at Lonely Planet think? I never carry a rucksack anywhere that a case wouldn't wheel with far less effort.
Take the border crossing to Shenzhen for instance. I was sweating like a pig by the time I was across all that flat floor, especially with having to pick up and subsequently drop my pack at least three times at various stop points. At least the border officials were less of a pain than is typical coming into a civilised country such as, for instance, the UK. In fact it all went surprisingly smoothly and eventually we emerged in China, expecting to see a railway station like it says in the book.
Nope. Guide books are rubbish!
I camped with the bags while Amanda went looking for the railway station. We reasoned it shouldn't be too hard to find, what with the book describing it as being in a 'vast square, right on the HK border', and it eventually turned up about half a mile away - up the stairs, along the terrace, over the bridge, along the terrace, more stairs etc. More blooming walking. My pack weighs 32Kgs, and doesn't contain any books or my computer. The total is probably about 100Kg. There had better be a train waiting for us.
There was one, about an hour later, and we managed the purchase of tickets with only one drop/hoist of our bags, then passed through the security checks. I was amazed by these, and wondered what exactly they were guarding against. The Chinese seem to X-ray all large bags entering bus or train terminuses, but wave through foreigners with bizarre clothing, subversive beliefs, unpronounceable names, and hand luggage that could easily contain a couple of machine guns and enough ammo to start a war. In fact I was beginning to suspect that my 'small' bag contained exactly that, but we found seats before it all became too much and I went postal.
The train turned out to be very modern, very fast, and very air conditioned. Plus we were subjected to relentless elevator music for the whole trip to Guangzhou - one and a quarter hours of shivering along to 'Acker Bilk murders George Michael's greatest hits.' Earlier I had remarked on the prevalence of annoying musical phones in people's pockets, and joked about expecting to hear the theme to 'Love Story' at any moment. No sooner had I dug my Aussie drover's coat out of my bag (my only warm item of clothing) when it starts, 'Where do I begin...?', the second most annoying tune in the universe after the Pina Colada song.
I suppose I should be grateful for small mercies. Had it been Barry Manilow I would still be singing it now.