A Life on the Ocean Wave: Bilge
Created | Updated Sep 12, 2010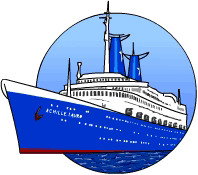 Hello. My name is Emma and I go on cruises. Mostly, so far on P&O ships out of Southampton, but other perfectly good cruise companies are available. ;-) When I can, I con my parents into paying for my ticket.


When I travel, I blog. If you would like to read it all, it can be found at my PS. The Post have asked me to proffer some edited highlights of my ramblings, which I shall now inflict on you forthwith. Enjoy.

Bilge
Tuesday night
Busy day today. Lunch. Group photo of not quite all, but certainly a good proportion of the passengers on board. Then the Crossing the Line high jinx previously mentioned. Great fun and a good laugh. Then Spanish class. How to make telephone calls. Then a talk by the Environmental Officer.
She reports directly to the Captain, so everyone has to do what she says. Her talk was absolutely fascinating. Each day the ship launders 1500 bath towels, 3000 hand towels, 2000 face towels and 1000 beach towels. The laundry runs 24 hours a day. I imagine they lose count of sheets, pillowcases, duvet covers and table cloths! We treat and process our own sewage, our used cooking oil is recycled onshore into bio diesel and our broken glass goes into tarmac for roads and car parks. We don't desalinate, as I thought. In fact, we have an evaporator instead. This means that sea water is taken in and boiled in a vacuum (to reduce the boiling point and use less energy to boil it) and so what I actually shower in and drink is distilled water! I can't tell you how clean I feel now! No wonder my shampoo lathers so well – I mean I knew the water was soft, but, blimey, distilled?! There was one know-it-all heckler who was beyond objectionable. She coped quite well with him, but it was other passengers that told him to shut up! We don't care what TYPE of sewage digestion they use and neither are we interested in his opinion as to which type of sewage digester they SHOULD be using. Pompous ass.
Then shower, dinner and, oops, I may have bought three pictures. Don't tell the parents, I haven't broken it to them yet! I can guarantee my dad will say "But you've got no walls to put them on!" AGAIN. Why do I always seem to be homeless?! And why do I always buy art when I am?! A shrink could have a field day with that. In fact, next time I see her, I'll ask one!
Clocks forward tonight. AGAIN. To GMT+10, heaven help us. Time for beddy-byes, methinks. What with it suddenly ceasing to be 2.20 and becoming 3.20. It's very nearly lunchtime!
Wednesday 5pm
I can't take it. I'm fit for nothing. One hour lost and I'm barely upright. All I want to do is sleep. It is very warm out and EXTREMELY humid, so I'm indoors, basking in air con. I was woken by dad ringing me at 1.45pm to find out why I hadn't come to lunch. And despite a pint of diet coke, I still feel like a damp dishrag. You could knock me down with a feather, right now. In fact, I'm going to stop typing and try and get a nap before dinner. Of course, it's another flipping formal, so it's hassle all the way tonight. Meh.

11.45pm
I'm going to bed. Never mind that Give Us a Clue is going on in the ballroom (watching one of the singers who has just joined the ship trying to do charades to communicate the song title One Night in Bangkok to her team mates, one of whom was the Captain, is a moment I will treasure for a long time). Never mind that there is some fantastic eighties music going on in Masquerade (even though there isn't a single soul in there other than the waiters and the bartender). I managed to summon up the energy to go to the Star Talk on the top deck, and was very impressed to find that my camera was able to photograph Orion – oh yes indeedy. Might have got better pictures if we'd waited till the moon set, but hey, whatever. The bloke giving the talk knew very little but it was still an enjoyable little jaunt.
But I'm exhausted. My tummy feels funny (possibly too many Haribo...) and I ache all over. This clocks going forward thing is a nightmare. Only those who have experienced long-haul flights going east will have the faintest idea what it feels like. The trouble is, that this isn't one dose of mega-jet-lag, it's a dozen small doses, over and over again. Just when you think you've adjusted, they knock you again. It's exhausting. Mum and Dad have already said we won't go round this way again, we'll go west in future, as we have done in the past. This isn't the first time we've gone east, but it's the furthest east we've gone in one go and it's a killer. Last time, we went down the west side of Africa and then across to south-east Asia and then back again. Far more gradual and not nearly so many time zone jumps. Oz is just too far. I'm sorry. Forget it, really. There's no point in going somewhere you feel too rotten to appreciate or enjoy!
Wednesday noon
DAMMIT! The Captain has just announced an itinerary change. Due to piracy issues near the Seychelles, we're not going to Port Victoria on the island of Mahe. Instead, we're going to the Maldives, to Male. We've been to both of these before, but it's still irritating. Port Victoria is a pretty little town. Male is ugly and built over. In fact, the entire island has been built on. There's no greenery whatsoever. It reminds me of Joni Mitchell's song, Big Yellow Taxi. The Maldives are supposed to be so beautiful, and yet, when it comes to the main island, they've literally paved paradise and put up, if not a parking lot, because parking is a nightmare, then just a thousand ugly buildings. I don't even remember seeing a tree. Not a one. I will now have to spend money on the internet (20p per minute or £12 an hour to you) to find a place for us to go when we get there, so that we're not stuck in that ugly little town. Phooey. Last time we went there it was a Sunday and there were no boats out to the other islands, so we were literally stuck. I don't know what day we'll be there this time, but I'm going to have a contingency plan in place this time! Either that or we could consider not getting off at all. The Spa has discounts on Port Days... hmmmm...
A Life on the Ocean Wave Archive