h2g2 Academy Awards - The Peta's
Created | Updated Apr 10, 2003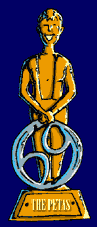 So the Screen Actors Guild have made their awards,
but there are only 98,000 of them. There is a far
bigger potential electorate for the 2nd Annual H2G2 Academy Awards
and there is still time to vote. As we are going to be
announcing our winners on the same night as another
big bash in Hollywood that gives you just over a week
to cast your vote.
So far over 25 researchers have made their opinions
known, and some of the categories are running very
close. In fact the category for best Actor in a
Supporting Role is currently being hotly contested by
6 actors. So people will be nibbling their fingers at
Kodak Theatre on Hollywood Boulevard as their agents
are texting them the results of the H2G2 poll.
The New Categories
These are some of the least well supported
categories, especially that for best song with only
three votes cast, however the Director Category is
hotting up nicely. People however seem a little unsure
about the awards for visual and sound categories so
I'll explain what I mean by these categories.
As very few of us are experts in the field of
visual and sound engineering I just want you to vote on
the films that have made the greatest impact on you
either on your optic nerve or on your eardrum. Simple
as that. You know what blew you away, so cast your
vote to that.
In two weeks time The Post will carry a full
rundown of the results, and we will know who has
received an e-mail on behalf of the h2g2 community
telling them of your appreciation for their work, and
we will know who will stand alongside Stanley Kubrick
as our second inductee into the fellowship of the
academy for their Lifetime Achievement.