Vignette from Mark Moxon
Created | Updated Jul 11, 2003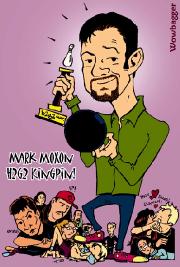 No doubt there will be plenty of nostalgic 'I remember when all this was
just fields' thoughts as The Post reaches its second birthday, and although
it might be interesting for me to waffle on about life on h2g2 two years
ago, I haven't had the required six pints, so instead I thought I'd pull out
some interesting statistics from the database to show how far h2g2 has come
in the last two years.
On December 6, 1999 (when the first Post hit the virtual shelves) there were
22,185 Guide Entries in the Guide; we're now up to a whopping 66,633. The
Edited Guide was a pretty lowly 542 Guide Entries, with an average length of
3349 characters, but now the Edited Guide proudly boasts 3380 entries (even
more by the time you read this) with an average length of 5963 characters.
Our 30,248 Researchers have trebled to 92,120, and the number of Postings
has shot up from 176,644 to a mind-boggling 1,527,269.
But stats aside, h2g2 has matured. Two years ago there was no Peer Review
but there was the damn submissions queue; there were hardly any smilies; we
were still on Llama technology (remember long Conversations crashing your
browser?); Goo was the only skin; the Editorial Team consisted of just me,
Peta and Anna; nobody had been banned from h2g2 for life; there were no
Gurus, Scouts or University Researchers; regular real-life meet-ups weren't
such a fixture as they are now; and the world was full of the insanity that
would eventually burst the Internet bubble. Ah, those heady days of loud
rock music in the office!
The Guide and the Community have come a long way, and The Post is a great
reflection of that progress. We'd like to give everyone involved in the Post
(past and present) a big hug, and here's to us celebrating many more
anniversaries in years to come. Cheers!