The Reluctant Gaijin in Japan: TV and Sport
Created | Updated Oct 13, 2010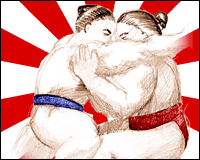 So here I am. Owing to a set of circumstances largely beyond my control, I find myself living and working in Japan. I could tell you the circumstances, give reasons or excuses, but telling you isn't going to help. Let's face it, life – and other four letter words – happen.
Part Eight TV and Sport
Now that I've been here a while, I have developed a two-step policy for dealing with aspects of Japanese life: step one – learn something about it, step two – find ways to avoid it. Such methods are a little flawed, though.
Moving from a box apartment to a unique old place with no adjoining neighbours was one example. I feel less like a battery hen and can play my music a little louder, but just because no-one's walking on my ceiling any more doesn't mean there isn't noise. At 8.00am some truck advertising (or collecting, or preaching, I really couldn't tell you) winds up its loudhailer. It's not the fascists, they play nationalistic music – we could hear them at the last place. Speaker trucks seem to be a common way of getting your message across in Japan. At election time there are fleets of them shouting their politics around town. There are also fire warnings, delivered with the ringing of a bell. I'm not sure how many people change the plan they had made to burn down their house, but judging by the TV news, the message isn't getting through.
We also had a problem with a noisy dog at all hours. This can happen in Britain of course, but you can complain about it, especially if it's late at night. Generally, people in Britain love their dog like a member of the family and will take it indoors to stop its complaining of abandonment. Here, a dog is an add-on and leaving it outside is normal, even if the animal is distressed. Never mind the noise, we told animal welfare, we think it might die in the winter cold. Their response can be summarised as "So?" Thus, it came to pass that the animal froze to death and my girlfriend got extended verbal abuse from the owner for... trying to save her pet. Ho hum.
When left undisturbed inside the apartment, I can enjoy Japanese television. Ha! The language barrier cannot hide the fact that most of the main channels appear to have a schedule akin to the worst of ITV2. Anything that might amount to actual informative content has to be celebrity packaged in order to persuade Japanese people they should watch. Endless studio-based programmes have inset faces of celebrities to capture their immediate reaction to anything from domestic politics to funny video footage of a cat. So, I shield myself from it by setting my TV to default to a cable channel carrying American movies and dramas (and even British sitcoms, which is absurd, because the wordplay of Lee Mack can't possibly translate).
Then there's sport. The number one sport in Japan is... rounders! Yes, the kids' game British boys give up to advance to cricket is king here. Baseball makes the news all year round but, like football, the Japanese leagues are no match for the bigger ones overseas. Football is a distant probable second to baseball, although sumo wrestling fans may dispute that. I've tried to watch sumo, I've tried to understand that it's very traditional and Japanese, but it just doesn't make two fat men shoving more interesting (although the weight loss surgery efforts of a retired sumo wrestler made gruesomely fascinating viewing). After that it gets worse... league volleyball, girl's university basketball live on multiple channels... so I shield myself against it and take refuge in cable channels showing English Premiership football and Six Nations rugby.
As for Japanese music – well there's a reason why it doesn't travel well. I'll be generous and say that enka is traditional music and therefore not designed to be tolerable to those not indoctrinated in it, but it's tough to find an excuse for their pop music. I have a habit of hoovering up local CDs wherever I go, from Belgium to Brazil, but my search for palatable Japanese music has thus far been fruitless. The frequent habit of trying to be cool by putting a couple of lines of English in an otherwise Japanese song is just embarrassing and doesn't change the problem with the raw material. Once again, avoidance is the best policy. Proper English language pop and rock is readily available here, at least from the bigger artists or in the bigger cities, and I have actually found something that's better in Japan – a chain of second hand stores that sell CDs, DVDs and books at bargain prices to fill my empty shelves.
So I survive. I learn a little and then defend myself from what I don't understand or don't like. I build up my immunity. From someone who had to be metaphorically dragged onto the plane, that's not so bad. Did you think I was going to go native?
The Reluctant Gaijin in Japan Archive