Notes from Ground Zero
Created | Updated Jul 11, 2003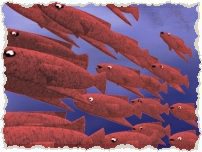 On Saturday morning I received this email from my friend Rufus. She lives in Brooklyn, works in Manhattan and only one month ago I had slept on her floor as part of my holiday in the US.
Two days ago I returned to the city.
The trains, and the streets, were eerily empty. By 14th street I could smell the smoke, by west 4th street I stopped to buy a washcloth, as the store was out of masks. In the park I saw two Industrialsprites with gas masks being interviewed. I overheard something about them coming down to help friends.
I walked and walked and walked, until I was stopped, which was at Houston and Broadway, and from there I could see the smoking wreck, and smell it. The cops were low-key, calm, but authoritative, moving people along. Camoflauged vehicles went by me, beetling down the street. I could see the hulk in the distance, the bent & twisted steel, the billowing smoke. A heavy grey cloud hung over everything south of where I was standing.
I see a lot of flags these days, too, taped to windows, tied to poles, hung out windows. The bombs burst in the air, but our flag is still there. Today I saw more, on TV, being held up in Britain, France, many other countries. The most affecting was the man in Northern Ireland, holding a tiny American flag and crying. That and a crowd of Londoners singing the Star Spangled Banner for all they were worth.
The destruction continues. Parts of 1 Liberty Plaza are on the verge of collapse, if it has not already gone down when you read this.
I walked Wednesday where I used to live, down streets I know as I know the way home, and the wreck grew ever closer, ever more real, and the horror spread through me, as it never had before. I just took Munchkin to see this part of the Village. Mig and I took the ferry and wandered, briefly, through down-town not so long ago.
And it's all changed now.
Grief, yes. I went to mass Wednesday morning to pray and also to cry, in a church full of people who remember Pearl Harbor, of women waiting for their men to come home, of families who may have lost members, or who may be waiting to find out how large their wounds will be, and I tried to listen but I don't think I absorbed much. Even prayer seems to fail me now.
Tuesday I sent up little flares, that said :Alive::Alive:Alive:, We Are Still Alive. Which we are, all of my friends and family so far present and accounted for. Maureen (my sister) was in VA and not in NYC, in her apt., 5 blocks from the WTC, an area which now resembles Pompeii. My uncle, who works at Merrill Lynch, went to get coffee (!), saw the explosion and walked up the West Side Highway to safety.
Had Maureen, Drew, and I not been laid off in May, she would probably have been home. Drew and I would more than likely have been on the trains as the planes were making their terrible landings, or at the very least walking down 14th street to work.
As it was I saw the smoking towers from the W train, on the Manhattan bridge. Drew saw the fireball. By the time we got where we were going, the first tower was down. Maureen saw the plane slam into the Pentagon from the highway.
It didn't seem real to me at first. How in the *hell* do you run into the WTC at 9 AM on a clear day?, I was thinking, as well as, why are the towers on fire? I heard rumors from further up the car, rumors that turned out to be true. Now I've seen the footage, the plane rolling and diving and obliterating and my heart breaks for those people who's last sight was the nose of a 757 coming through their window, and the people who heard their last words via a cell phone.
I am overwhelmed, exhausted, and very, very sad. I am also deeply grateful that the Angel of Death passed me & mine over.
Pray for the cops guarding the buildings, the firepeople fighting the flames, the emergency teams tearing through the rubble. Because the carnage has only just begun.

rufus