This Sporting Life
Created | Updated Jul 11, 2003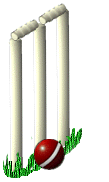 England v Australia: Second Test, Lords
Australia beat England by 8 wickets.
Well at least Australia had to bat twice this time! Even so a match winning first innings by Australia really did have England on the ropes. No surprises there then. So what let England down this time? Batting and fielding, ie the basics. The latter was sloppy and Adam Gilchrist alone was dropped four times! I have said it before; you can't have sloppy fielding when you are playing against the best. Equally it was the efficency of the Australian fielding that saw them demolish England on Sunday morning. It is enough to break a girl's heart. So I have resolved not to talk about it. Instead I am going to tell you about a racing hero, a horse called Quixall Crossett.
Sunday saw not only defeat at Lords for England but defeat at Southwell for Quixall, who has more then once been suggested as a potential England cricket captain. This handsome
chesnut gelding holds the European record for the most unsuccessful racing career ever. Sunday saw him clock up his 100th race with a single victory when he was pulled up with a circuit to go. Apparently hearing the cheers of the crowd as he ran past and being well behind the other horses, Quixall thought the race was over! Quixall has only even been in contention of
winning a race once, at Weatherby in 1998 when he was unlucky to be defeated by two lengths. He might lack speed but Quixall is one of the safest jumpers in the game having only fallen 5 times and lost his rider 7 times in a total of 100 races.
Now some people would question the point of running Quixall at all, just like some people say that the England Test team should be reduced to the level of the minor Test nations. Quixall's fans and his connections wholeheartedly disagree. The fact is the horse loves to run, he has no concept of failure and when he was sidelined through injury a couple of years ago, he was so bored he drove his stablelad and trainer up the wall. Quixall just loves taking part!
Just because he has never won doesn't make him a loser either. Quixall has also been second twice, third six times and fourth twelve times winning nearly £10,000. Considering he cost £50 to breed, he has more then recouped the original investment. He is also an international celebrity with a legion of fans. Don't believe me? Well check out the Quixall Crossett website which has had 7,000 hits in nine months!
So hurrah for Quixall Crossett. While this will be of little consolation to England cricket fans, defeat can be glorious... Sometimes!
Abi... Post Ashes Correspondant.